Taiko Drummers close out the sixth season of Tuesdays at the Triangle August 28
The energizing, haunting and rhythmic beat of the Tsukasa Taiko Drummers will close out the sixth season of the Polish Triangle Coalition's (PTC) Tuesdays at the Triangle on August 28 from 5:30 to 7:30 p.m.
"It doesn't seem possible that we are closing out another 13 weeks of free entertainment," says Mieko Joy Yoshida, PTC president. "And this year we upped our game with more vendors and activities. All of this is to prove that activating this important urban setting adds to the quality of life for city dwellers.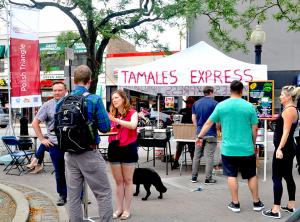 "Whether or not you have regularly enjoyed the variety of talent that has enlivened this transportation hub at Division, Milwaukee and Ashland, PTC Board members encourage you to come and enjoy this Tuesday's performance by the ever popular Taiko Drummers."
"This year's programming could not have happened without our new sponsors along with our ongoing supporters," explained Kapra Fleming, PTC treasurer.
"Our new sponsors are a City of Chicago DCASE micro grant for the 2018 Creative Youth, the 711 Midwest Franchise Owners Association and Wintrust Bank Logan Square. Their support, coupled with repeat funding from ActivateChicago, SSA #33 promote grant, 2nd Ward Alderman Brian Hopkins' office, Near North Montessori and Podhalanka Restaurant made it possible to have the amazing group of Chicago performers bring fun and enjoyment to hundreds of people who pass through the Triangle each Tuesday."
"New vendors made our market place experience much more exciting," said Mary Tamminga, PTC Secretary. Adding to the food offerings of Phil Vucinic's Cevapcici were Tamale Express, Caspian Cafe and Langhe Market's pizza oven. Atlas Legal Service, an artist, Just E Skincare, Alderman Hopkins' Office, Wintrust Bank Logan Square, GoCar, MB Financial and State Treasurer Michael Frerichs' office provided visitors with more learning and tasting opportunities.
Those who stopped to soak up the experiences were people of all ages. There were local residents, other Chicagoans and visitors from around the world.
Only one performance was cancelled do to rain this year. That was the Mariachi Herencia De Mexico group. Those who performed were: Near North Montessori, Ishmael Ali, Matt Ulery's "Loom", Cremona Music, Jazz Institute's Youth Jazz Group, ChiME/Adventure Stage, Bonzo Squad, Frankie B, Irish Music School of Chicago, Polish Triangle Jazz Trio and Breezy Rodio.
CAN-TV recorded two different programs this year, Breezy Rodio last week and the Polish Triangle Jazz Trio on Aug. 14.
The photos are from different performances but help convey the diversity of performances, audience members and camaraderie that is shared.
Photo source: Elaine Coorens 
Related:
Crime Stats By District
Columnists