Trick-or-treat safe and warm from West Town, Wicker Park, Bucktown to Logan Square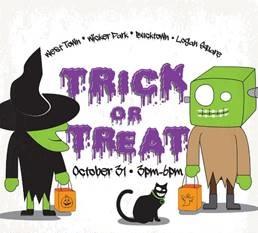 More than 100 businesses will be offering candies for trick-or-treaters, special deals for parents and live music for all from 3 to 6 p.m. on Thurs., Oct. 31. 
Wicker Park Bucktown Chamber of Commerce, West Town Chamber of Commerce and Logan Square Chamber of Commerce have joined together to provide a fun, safe and warm opportunity for celebrating Halloween 2019.
At 5 p.m., the stroller crowd will be heading to participate with Mr. Dave's music event at Sea and Olive, 1938 W. Division St., in Wicker Park.
In addition to handing out candy, many stores will offer special deals catered to parents, for one day only, including but not limited to the following:  
Wicker Park: Club Pilates Wicker Park will hand out candy to trick-or-treaters and offer 20% off the first month of membership plus free enrollment.
Logan Square: Chicago Distilling Company will offer $5 Happy Hour Specials for parents and Candy Treats for the kids. Coloring pages are also available to complete or take.
Bucktown: Eyeconic will raffle a sunglasses gift bag with something for Him and Her inside.
West Town: Chang's Martial Arts Academy to offer one week free kids martial arts, or one week free After School Program with free transportation.
Considering the weather forecasts, this planned celebration will be the safest way to enjoy Halloween this year. Send us your pictures and we'll publish them!
Related:
Crime Stats By District
Columnists