Wicker Park Mother's Day Weekend: Plant Sale--ON, Farmers Market--OFF!
Not all Wicker Park's promoted activities for this weekend, May 10 and 11, will take place. The two days of the Wicker Park Garden Club's Annual Plant Sale will take place but the Farmer's Market has been cancelled at the last minute.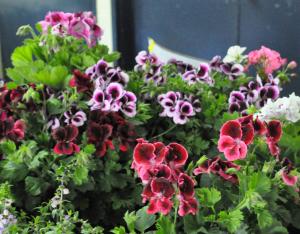 Plant Sale
The Plant Sale Team was at work again Friday. This time they were in the Wicker Park unloading a truck of the plants they selected on Wednesday. Then the organized them and priced them. Plants start at $1. All profits go to fund the Wicker Park gardens.
All the activities including the sale will begin at 10 a.m. and end at 4 p.m. each day.  
Farmer's Market
The Wicker Park Farmer's Market, scheduled to begin the 2014 season this Sunday, May 11 will NOT be held. Last year the Wicker Park Bucktown Chamber of Commerce (WPBCC) took over management of the weekly event. The City decided to devote their resources and staff to food deserts and turned farmer's market operations over to local chambers of commerce.  
"We are excited to have the market locally managed," said Adam Burck, Executive Director of the Chamber, last year. During the season, however, vendor participation dwindled. 
The Wicker Park Advisory Council, interested in the success of all groups looking to produce activities that add to the quality and enjoyment of life in Wicker Park, works to assist those groups. An example is working with the WPBCC with its Green Resource Fair. 
Relative to the Farmer's Market, however, they chose to not accept their assistance and did not follow the required procedures with the City and Park District in a timely fashion. Thus they are not permitted for this Sunday. They are now stating that they will be starting the market next week.
Related:
Crime Stats By District
Columnists