The Women's March on Chicago announces big news for January 21 and gets local support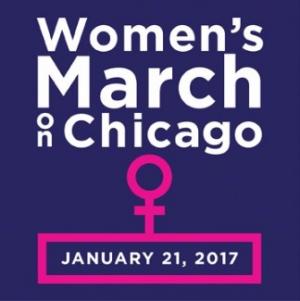 The Women's March on Chicago has an official Rally permit for the January 21 event and announces a list of confirmed Rally speakers as well as the March's route, according to the event's Tuesday morning announcement. 
The group's goals are to connect, protect and activate for women's rights, civil liberties, and diverse issues. "It is a matter of life or death for Americans, and especially for women's, LGBTQ's and minorities' rights," emphasizes Anne Shaw.  
Shaw is an attorney who barely missed forcing a runoff in the last 1st Ward Aldermanic race against Proco "Joe" Moreno and who has donated many hours and dollars for the rights of many individuals and groups. "We are fighting against the repeal of the Affordable Care Act, which saves the lives of millions of fellow Americans, the illegal registry of Muslim Americans that echo the shameful history of the Japanese Internment camps. We are also protesting against armed conflicts and war potentially triggered by the President-Elect's Twitter commentary. It is NOT acceptable. 
"People can NOT sit back quietly, the March will give valuable visual testimony to the fact that people care about our Country and about our fellow Americans and will take action to protect America's destiny and its people." 
Also speaking to the idea of communicating a visual statement is East Village resident Brenda Russell, "I hear a lot of conservatives say that we are trying to delegitimize Trump's Presidency. I don't agree with that. I'm going because I want him to see that his statement about having a mandate is delusional. 
"I want him to see that there is a huge number of Americans who are not going to sit idly back as policies get changed to take us back to the 1950s on such issues as LGBT (lesbian, gay, bi-sexual and transgender), abortion, women's rights, etc." 
The Rally
Music will kickoff the event at the Petrillo Bandshell at 9 a.m. and the Rally will begin at 10 a.m. 
"We're planning and hoping for the largest women's Rally and March outside of Washington, D.C. on Saturday, January 21, 2017," said Ann Scholhamer, one of the March Co-Chairs. "We have been hard at work with our dedicated volunteers to confirm an incredible slate of speakers, representing issues brought to light during the campaign and diverse issues of concern to Chicago women."  
The list includes:
Ari Afsar: From the cast of Hamilton 
Jean Albright: Master Sergeant (retired) U.S. Air Force
Eman Hassaballa Aly: Community Activist
Faith Arnold: SEIU Healthcare Illinois, Fight for $15
Eloise Diaz Bahrmasel, RISE Movement
Rabbi Shoshanah Conover: Temple Sholom of Chicago
Tamar Manasseh: Mothers Against Senseless Killings
Fawzia Mirza: Actor/Producer
Karen Olivo: from the cast of Hamilton
Sara Paretsky: Author, Sisters in Crime Creator
Channyn Lynne Parker: Transgender activist, TransLife Project Manager
Rahnee Patrick: Independent Living at Access Living
Maria Pesqueria: President, Mujeres Latinas en Accion
Cleopatra Pendleton-Cowley: Hadiya Pendleton Foundation
Tiffany Pryor: Executive Director, Illinois Caucus for Adolescent Health
Liz Radford & Ann Scholhamer: Co-Chairs of the Women's March on Chicago
Samantha Marie Ware: From the cast of Hamilton
Reyna Wences: Organized Communities Against Deportations
Rev. Dr. Janette C. Wilson, Esq.: National RainbowPUSH Coalition 
The March
Beginning at Petrillo Bandshell, the march will head west on Jackson, then north on Michigan, west on Adams, north on Dearborn, west on Randolph, south on Clark and finally east on Jackson back to Grant Park. A stopping point at Federal Plaza will give those who do not wish to walk the entire March route, an opportunity to leave the March. 
Volunteers
Marshals are an essential part of the safety team for the event and the organization is still reaching out for volunteers. 
In their search for volunteers, they say, "A marshal's main role is to make sure everyone moves along the march route safely and has a good time." More information and signing up can be accessed via their website.
Related:
Crime Stats By District
Columnists