WPC Vintage Sale, Green Resource Fair, Wicker Park Choral Singers and Farmer's Market: A Weekend in Wicker Park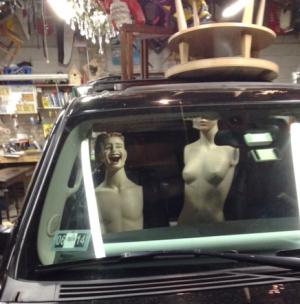 Another active weekend in Wicker Park starts on Saturday, June 14, when the Wicker Park Committee (WPC) "opens" its Vintage Sale "doors" on Hoyne at Damen Avenues at 9 a.m., followed by the Green Resource Fair (GRF) in Wicker Park, across the street at 10 a.m. On Sunday, June 15, the Farmers Market opens at 8 a.m. and at noon the fabulous Wicker Park Choral Singers (WPCS) will begin their concert outside the Field House. And, attendance at all is FREE. 
WPC Vintage Sale
T-shirts with Andrew Miller's iconic photo of Wicker Park are making their WPC debut. With over 22 vendors, there will be no end to the possibilities of goodies. Treasures just waiting to call your name are pieces of furniture to pieces of jewelry; vintage clothes for your body and artwork for your walls. 
LoopyQ pouches can, no doubt, be a safe new home for other treasures you may find. 
Brian Root who is chairing this event promises that you will be amazed.. 
Green Resource Fair
There will be many opportunities to learn how to make you, your family and your home or business more at one with the planet and universe. 
Produced and sponsored by WPB SSA #33, WPB Chamber of Commerce,  Wicker Park Garden Club, Wicker Park Advisory Council, Chicago Park District and A. N. Pritzker School. 
This is the most current list of events that will be going on between 10 a.m. and 1 p.m. on Saturday:
Decorate a pot and plant seeds to take home to Grow with Christy Webber Farm and Garden Center and Wicker Park Garden Club. 
Get updated on all the summer fun planned in Wicker Park from the Wicker Park Advisory Council - Movies, Classical Music, Wicker Mic, Yoga, Hooping, Learnapalooza, Gardening, and much more!! 
Relax and energize--join Moksha Yoga for a free yoga class in Wicker Park 
Battery Giant is collecting used batteries 
Get ideas about using native plantings with Art & Linda's Wildflowers 
The Chicago Area Peace Corps Association is collecting used books 
Lots of fun for the kids at Green Resources Fair—seed planting, hula hooping, electric vehicles 
Check out the super-efficient and very cool electric vehicle from Enterprise Car Sharing  
Learn how to prune a tree at Green Resources Fair 
Bring the kids to help with a beneficial insect release of non-biting ladybugs 
Check out the Lights for Learning energy bike and light board 
Free hula-hooping for everyone with CarlyHoops 
Play trivia with Green Choice Bank 
Check out the super-efficient and high tech electric vehicle from Green Wheels 
Stop by Alderman Fioretti's table 
Get your helmet fit at the Chicago Bike Ambassadors table 
Learn about native plants and landscaping with Red Stem 
Charge your cell from a wind turbine with Wind Free 
Tour Wicker Park's spectacular gardens with the Wicker Park Garden Club 
Stop by Alderman Moreno's table at Green Resources Fair 
Find out about the WPB bike friendly zone from WPB SSA #33 
Stop by Congressman Quigley's table to get the latest information on what's happening in DC 
Wicker Park Farmers Market
From the corner of Wicker Park Avenue to beyond the Field House starting at 8 a.m. and going until 2 p.m., 15 vendors are scheduled to be offering a myriad of healthy foods. 
One of the City of Chicago's independent markets, this one is hosted by the Wicker Park Bucktown Chamber of Commerce. Some offerings are for immediate consumption, others are not. 
Plan to take time to enjoy the free concert as you nosh on some food from the market or bring your own. 
Wicker Park Choral Singers
The weather is predicted to be good so you will want to make sure you are visiting Wicker Park by noon when the WPCS will be present their Summer Voices concert in the Park. 
Founded in 2008, they are an all-volunteer ensemble dedicated to building community through choral music. Sunday will be:
Hark, I Hear the Harps Eternal – arr. Alice Parker (b. 1925)
Abide with Me – arr. Moses Hogan (1957 – 2003)
Wake, Awake for Night Is Flying – arr. F. Melius Christiansen (1871 – 1955)
My Lord, What a Mornin' – arr. Harry T. Burleigh (1866 – 1949)
In Dat Great Gittin' Up Mornin' – arr. Jester Hairston (1901 – 2000)
As torrents in summer – Edward Elgar (1857 – 1934)
To be Sung on the Water – Samuel Barber (1910 – 1981)
Full Fathom Five - Charles Wood (1866 – 1926)
Shall I compare thee to a summer's day - Nils Lindberg (b. 1933)
When Daffodils Begin to Peer – Matthew Harris (b. 1956)
Abendlied – Josef Rheinberger (1839 – 1901)
Solóvusko (The Nightingale) – Peter Tchaikovsky (1840 – 1893)
Sleep – Eric Whitacre (b. 1970)
Lullabye – Billy Joel (b. 1949)
Little Potato – Malcom Dalglish (b. 1952)
Shenandoah – arr. James Erb (b. 1926) 
Appreciating Wicker Park
As you visit Wicker Park, remember that this Chicago Park District location has gardens designed, planted and maintained by all volunteers, many of whom do not live in the neighborhood. Many of the other assets such as benches, urns and playlot equipment are a result of the generosity of donors. Since 2002, the all-volunteer Wicker Park Advisory Council has garnered a total of $4.2 million in assets and services as well as programming and events for Wicker Park.
Two Vintage Sale photos courtesy of Brian and Leah Root
Related:
Crime Stats By District
Columnists