Roof fire on Webster in Bucktown
At approximately noon on Thursday, Mar. 17, fire equipment and police cars headed to the 1800 block on  W. Webster. According to a police report, the building was evacuated. The elevator was shutdown.
The fire was confined to the roof. The building owner had provided a wooden platform for tenant smokers to stand outside. It is presumed that someone accidentally did not totally put out a cigarette. As one tenant said, "We won't be going back up there to smoke again."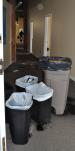 It appeared that the elevator was not damaged, though the roof elevator covering was damaged. The entire platform was destroyed and part of the roof was burned. Water damage was evident the top two floors.
Containers collect water the
Fire Dept. poured on the roof.
Related:
Crime Stats By District
Columnists