"The Bold and the Beautiful": Logan Square Farmers Market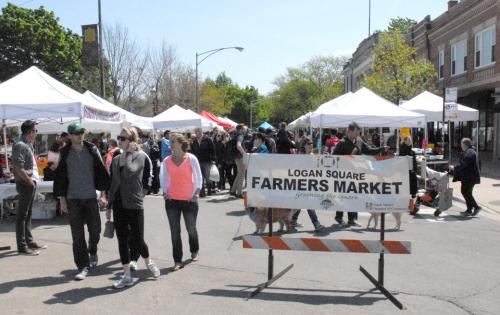 UPDATE!
Final Vendor List...see below
The Logan Square Farmers Market will be open for shoppers Sun., Nov. 22, at the same outdoor location as the summer market, along Logan Blvd. from Milwaukee Ave. to Whipple. Hours: 9 to 10 a.m. for high risk shoppers and 10 a.m. to 3 p.m. for all other shoppers. 
Their first outdoor reboot last week was a serious test of many from vendors to shoppers. With a confirmed vendor list of 26 for the Nov. 15 Market, it started with 16 bold and beautiful vendors, due to the weather, reports Nilda Esparza, volunteer market manager and interim Logan Square Chamber Executive Director. 
But Mother Nature took over. She hammered them with rain and whipped them with her winds and rain, dropping the vendor count to 10 then 9 and finally five! 
"But 328 people shopped," exclaimed Esparza. 
Everyone is hoping for a kinder Mother Nature this Sunday. So plan to take advantage of the farm to table offerings as well as the fresh baked goods and other items. 
We will post their list here as soon as it is available. 
Esparza said that they will be taking the following Sunday, Nov. 29, off. "I hope that when we will start up again in December, it will be at a new indoor space. 
"We have several perspective locations and are working out details now." 
In the meantime, put the Logan Square Farmers Market on your schedule for this Sunday, Nov. 22.
This Sunday's Vendor Line-Up
All food vendors have SNAP/EBT-eligible products, and accept various types of payment. 
American Pride Microfarm, selling various microgreens
Anticonquista Cafe, LLC,

 

selling coffee beans from Guatemala
Baked Chees Haus, selling cheese, butter, pizza crust & more.
Bee in Beezyness, selling honey, and beeswax candles.
Bhoomi Chai Co.

,

 selling spice masala chai, spice golden turmeric chai, spice chai love (caffeine free) and more
Cookies & Carnitas, selling soups, sauces, cookies, bagels and assorted goods using local producers
Cyrano's on the Go, selling Wild Mushroom Soup, Traditional Coq Au Vin and more
Earth First Farm, selling blueberries and more
Geneva Lakes Produce, selling produce, potted herbs and flowers
Golden Rise Bakery, selling breads and baked items⠀
Having Fons, LLC, selling plant based empanadas, with plants such mushrooms, corn, peppers, jackfruit, etc.
J2K Capraio, selling fresh, feta, soft-ripened, blue, and aged cheeses
Jacobson Family Farms

,

lettuce, mustard, kale, spinach, arugula, cress, Swiss chard, collards, beets, carrots, turnip, radishes, shallots, scallions, celery
Karl's Kraft Soups, selling Roasted Tomato & Cheddar/vegetarian and Moroccan Chickpea/Vegan 
La Boulangerie, selling fresh bread.
Mint Creek Farm, selling pastured pork, grass-fed beef, lamb, goat and honey
Montelimar Bread, selling fresh bread.
Mushyface Cookie, selling handcrafted dog treats.
Oriana's Orchard, Asian pear vinegar, wellness herbal tea,Ariona, black currant, rhubarb strawberry jam, frozen paw paw & American persimmon pulp
Phoenix Bean, selling tofu from IL-grown, non-GMO soybeans 
River Valley Ranch, selling mushrooms, salsas and more
Roedger's Brothers, selling frozen blueberries⠀
Stamper Cheese, selling cheese (including apricot brie, burrata and more)
Tamales Express, selling tamales to go
Willow Garlic Growers, selling Cured Garlic Bulbs, Garlic Braids, Scape Pesto and Garlic "Kisses"- mini softneck garlic braids 
Related:
Crime Stats By District
Columnists