Logan Square's Farmers Market kicks off the season on Mother's Day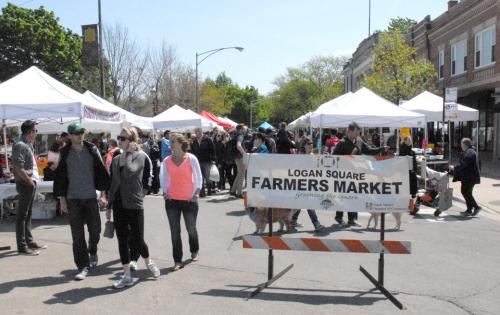 The 14th season of the Logan Square Outdoor Farmers Market kicks off Sunday, Mother's Day, May 13, from 10 a.m. to 3 p.m. at Logan Blvd. and Milwaukee Ave. (3107 W. Logan Blvd.). 
With 76 vendors onboard for this season, 15 are new to the outdoor venue. By category, there are produce farmers, cut flower farmers, bakers (including gluten-free and vegan), processors, prepared food vendors, frozen treat vendors and a selection of miscellaneous sellers. Their market frequency varies from weekly to monthly and some do not start until later in the season. 
Logan Square's market has been operated by the Logan Square Chamber of Commerce (LSCC) since 2007. And, they are the only weekly, year-round farmers market in the City of Chicago. Rain or shine, the outdoor market runs through Oct. 28.
Each market includes entertainment. This week:
10 a.m. Cowboy Choir plays great, old Cowboy-folk tunes, timeless standards and early rock classics.
12:25 - 12:30 p.m. The Chicago Chorus Girl Project will delight with a short-run chorus line at Market center. 
12:30 p.m. Glass Mountain makes music that captures the grit and beauty of the American folk tradition.
For those who want to chill with activity, there are Yoga and Pilates classes between 10 a.m. and 12:15 p.m. (bring your own mat).
This is Jessica Wobbekind's first outdoor market season as Executive Director of LSCC and she said she is looking forward to the market's 14th season, "I really enjoyed the support from the entire farmers market community- the vendors, neighbors and visitors to Logan Square- at our indoor market this year and I am so excited for the market to return to the boulevard. We have so much planned for this season and we can't wait to share it all with everyone!" 
Staff dedicated to the market are Whitney Richardson, Special Projects Manager, and Rosie Fitz, Operations Manager.
With their three goals to build an alternative food system, foster entrepreneurship and build Community, they have garnered several firsts and honors:
first in the state of Illinois to process EBT for LINK Card Users (2008)
extended its operation to include an indoor market during the fall and winter month (2009)
named "Best Farmers Market in Chicago" by Chicago Magazine (2016)
honorable mention in the New York Time's 36 Hours in Chicago  (2016)
USA Today honored the Logan Square Farmers Market as the best in Illinois  (2017)
Related:
Crime Stats By District
Columnists