Ousted Logan Square's Indoor Farmers Market returns to the outdoor Milwaukee and Logan site Sunday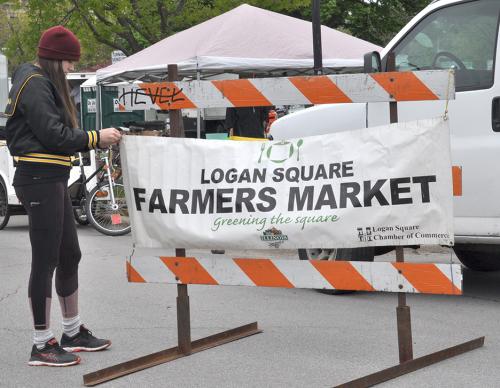 UPDATED
The updated vendor list is at end of this story.
Logan Square Chamber of Commerce Indoor Farmers Market (LSFM) will open its third winter market with more than 30 vendors on Sun., Nov. 15, at the same outdoor location as the summer market, along Logan Blvd. from Milwaukee Ave. to Whipple. Hours: 9 to 10 a.m. for high risk shoppers and 10 a.m. to 3 p.m. for all other shoppers. 
Indicating competitor complaints from other tenants in "The Fields" at the Diversey and Pulaski site, New York property owners Knickpoint Ventures, who offered LSFM the space, ousted them after two weeks into the new indoor season. 
Thanks to the Department of Cultural Affairs and Special Events (DCASE), LSFM's market permit for the outdoor market space has been extended. 
"It is the power of the Chamber's network of members, vendors and other community people that it is possible to not miss a beat with our market this coming weekend," says Nilda Esparza, who is volunteering as this year's market manager and serving as the Chamber's interim Executive Director.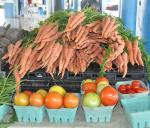 Aside from sending prayers for the good weather providers, the network is working hard to locate a different indoor space for the remaining weeks thru Mar. 28, 2021. Their collective priorities are all focusing on the fact that continuity is a key to successfully serving their customers, a task they have done since 2007.
So bundle up and remember to support these small businesses next weekend, rain or shine.
Vendors
There is a wonderful line up of vendors for this market. They are diverse. Some have been at this market before, others have not. Some are local, some are not. What they all are is eager to provide top quality products to market shoppers.
At the moment, the vendor list for this up coming weekend is listed below. It may be updated later in the week.
American Pride Microfarm, 

selling various microgreens

Anticonquista Cafe, LLC, 

selling coffee beans from Guatemala

Baked Chees Haus,

 selling cheese, butter, pizza crust & more

Bee in Beezyness,

 selling honey, and beeswax candles.

Bhoomi Chai Co.

,

 

selling spice masala chai, spice golden turmeric chai, spice chai love (caffeine free) and more

Buckaroo Pepper Jam, 

selling all natural, gluten free and vegan gourmet pepper jam

Chicago Honey Co-op

,

selling honey, bath & body products and more

Cookies & Carnitas,

selling soups, sauces, cookies, bagels and assorted goods using local producers

Cyrano's on the Go,

selling 

Wild Mushroom Soup, Traditional Coq Au Vin 

and more

Earth First Farm, 

selling blueberries and more

Emery's Kitchen,

selling all-natural & organic comfort foods

Empoli,

 selling pasta

Geneva Lakes Produce,

selling produce, potted herbs and flowers

Golden Rise Bakery,

 

selling breads and baked items

⠀

Having Fons, LLC,

 selling plant based empanadas, with plants such mushrooms, corn, peppers, jackfruit, etc.

J2K Capraio, 

selling fresh, feta, soft-ripened, blue, and aged cheeses

Journey: One Bar At A Time, 

selling vegan soap bars and vegan lotion

Karl's Kraft Soups,

selling 

Roasted Tomato & Cheddar/vegetarian and Moroccan Chickpea/Vegan 

La Boulangerie, 

selling fresh bread.

Lemaster Family Kitchen

, 

selling spice blends and rubs

Letizia's Natural Bakery,

selling pastries and frozen handmade pasta

Mint Creek Farm

,

 

selling pastured pork, grass-fed beef, lamb, goat and honey

Montelimar Bread,

selling fresh bread.

Mushyface Cookie

,

selling handcrafted dog treats.

Oriana's Orchard

,

selling strawberry and rhubarb jam, Asian pear vinegar, persimmon pulp, jams, frozen rhubarb, aronia jam with & without sugar, black currant, wellness herbal tea, paw paw and more.

Phoenix Bean,

 selling tofu from IL-grown, non-GMO soybeans

 

Piscasaw Gardens, 

selling locally grown quality popcorn

Roedger's Brothers

,

selling frozen blueberries

⠀

River Valley Ranch

,

selling mushrooms, salsas and more

Sfera Sicilian Street Food,

selling their specialty Arancini (stuffed risotto ball)

Sheekar Delights,

selling gourmet baklava

Sip of Hope,

selling cambro's of hot and iced coffee

Stamper Cheese, 

selling cheese (including apricot brie, burrata and more)

Sweet N' Dainty Cupcakery,

selling a Confection of Gourmet Cupcakes - flan, rumchata, cookie dough, pumpkin spice & more!

Tamales Express,

selling tamales to go

Twisted Olive,

selling first press cold press olive oil and balsamic vinegar

Willow Garlic Growers,

selling

Cured Garlic Bulbs, Garlic Braids, Scape Pesto and Garlic "Kisses"- mini softneck garlic braids 

Yoberri Gourmet, 

selling frozen yogurt ft. local ingredients
Shoppers
It is important to remember, as though you could forget, that we are in the midst of a pandemic and that certain protocols must be followed, such as wear a mask, social distance and the vendor will pick the item you want. For complete rules and regulations, check this out 
COVID-19 guidelines
.
Volunteers Needed
Volunteers are needed to help at the market. 
"We are expected to need about 10-12 volunteers each market day to be able to properly open with all of necessary guidelines. Please review our new policy, please do so here," says Esparza. 
"Volunteer shifts allow for social distancing, we will provide PPE (including face shield if you'd like), and shifts are 2.5 hours. Roles include: line keepers, assisting with the check in booth, tallying customers, and ensuring the market perimeters are secure. Sign up for a shift here."
UPDATED Vendor List as of 11/14
Baked Chees Haus, selling cheese, butter, pizza crust & more.
Bhoomi Chai Co.

,

 selling spice masala chai, spice golden turmeric chai, spice chai love (caffeine free) and more
Cyrano's on the Go, selling Wild Mushroom Soup, Traditional Coq Au Vin and more
Emery's Kitchen, selling all-natural & organic comfort foods
Empoli, selling pasta
Geneva Lakes Produce, selling produce, potted herbs and flowers
Golden Rise Bakery, selling breads and baked items⠀
Having Fons, LLC, selling plant based empanadas, with plants such mushrooms, corn, peppers, jackfruit, etc.
J2K Capraio, selling fresh, feta, soft-ripened, blue, and aged cheeses
Jacobson Family Farms

,

lettuce, mustard, kale, spinach, arugula, cress, Swiss chard, collards, beets, carrots, turnip, radishes, shallots, scallions, celery
Karl's Kraft Soups, selling Roasted Tomato & Cheddar/vegetarian and Moroccan Chickpea/Vegan 
La Boulangerie, selling fresh bread.
Montelimar Bread, selling fresh bread.
Mushyface Cookie, selling handcrafted dog treats.
Phoenix Bean, selling tofu from IL-grown, non-GMO soybeans 
River Valley Ranch, selling mushrooms, salsas and more
Roedger's Brothers, selling frozen blueberries⠀
Rollicking Buckaroo Pepper Jam, selling all natural, gluten free and vegan gourmet pepper jam
Stamper Cheese, selling cheese (including apricot brie, burrata and more)
Sweet N' Dainty Cupcakery, selling a Confection of Gourmet Cupcakes - flan, rumchata, cookie dough, pumpkin spice & more!
Tamales Express, selling tamales to go
Willow Garlic Growers, selling Cured Garlic Bulbs, Garlic Braids, Scape Pesto and Garlic "Kisses"- mini softneck garlic braids 
Yoberri Gourmet, selling frozen yogurt ft. local ingredients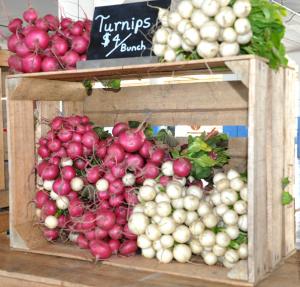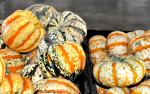 Related:
Crime Stats By District
Columnists