Polish Triangle Market Place opens the 2012 season on a beautiful sunny day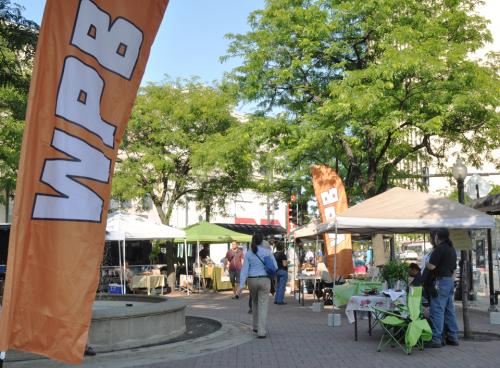 With a breeze gently blowing and the sun brightly shining, the Polish Triangle Market Place began its 2012 season with the new hours of 3 to 7 p.m. on Thursdays at Ashland, Milwaukee and Division.
Sponsored by the WPB SSA#33. the market has seven vendors to date.
Cook Au Vin (French breads, Viennese pastry, brioche)
Stamper Cheese (Wisconsin artisanal cheeses)
SenTEAmental Moods (fine teas, brewing supplies and honey)
Spark of the Heart (dried soup mixes)
I-go car-sharing informational booth with promotional giveaways (they will be some markets, not all)
House of Two Urns (fresh herbs, banana bread, vegan banana bread, rosemary banana butter, cinnamon banana butter, vintage aprons, Illinois B&B cookbooks, Eek! Chutney, handmade ceramic herb pots, olive trays and budvases)
pick up location for Peasants Plot CSA (Consurmer Supported Agriculture)
According to the SSA's Program Manager, Jessica Wobbekind, there will probably be one or two more vendors for next week. An existing vendor may expand what they will have available. All in all it was a pleasant, comfortable site with good vibes.
Related:
Crime Stats By District
Columnists