Revitalized Wicker Park Farmers Market opens their 2018 season this Sunday, June 3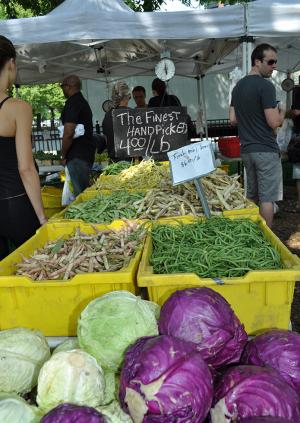 Expansion and change are the words to describe the Wicker Park Farmers Market this year. Starting Sunday, June 3, it will be open for business each Sunday from 8 a.m. to 2 p.m., rain or shine, in Wicker Park, 1425 N. Damen Ave., along the west fence from Wicker Park Ave. to Schiller St.
Each of the 22 weeks of the market, ending October 28, there will be up to 29 vendors, in a different market layout than in the past with cooking demonstrations and many more innovations, according to the new Market Manager Alice Howe. 
"Our entertainment line-up will begin week two," says Howe enthusiastically. "This week the feature is the partnership between Brobagel and Hot Doug's. Brobagel will have the Hot Doug's Atomic Sausage Bagel sandwich. It is an experience!" 
Four of the ten new vendors raise the count of prepared food vendors to nine. Below is the finalized list of vendors scheduled for this year. Those with an "*" are new to Wicker Park. Not all vendors are present every week.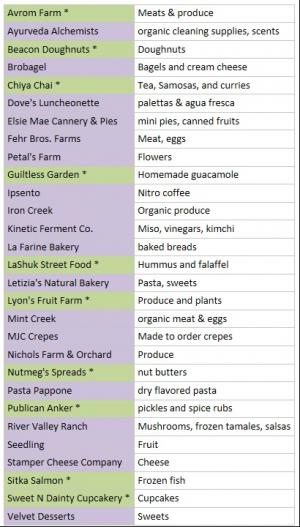 The prepared food vendors are Beacon Donuts, Brobagel, Chiya Chai, Dove's Luncheonette, Ipsento, LaShuk Street Food, MJC Crepes, Sweet N Dainty Cupcakery and Velvet Desserts. 
A free yoga class will be held at 9 a.m. each week in the Schiller Grove area, close to the south fence. 
Presented by the Wicker Park Bucktown Chamber of Commerce and supported by WPB SSA #33, the market produced in partnership with the Chicago Park District, the Wicker Park Advisory Council, Wicker Park and the City of Chicago. 
Wicker Park will be the Sunday destination for food, entertainment and fun!
Related:
Crime Stats By District
Columnists