Garlic Mustard…good or not so good?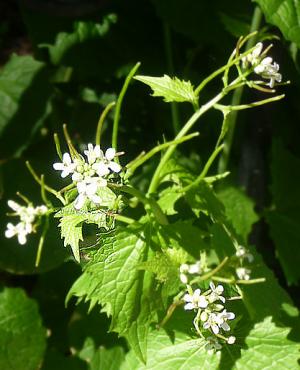 Garlic Mustard is an invasive plant, brought to the U.S. for cooking and medicinal purposes, but has taken hold here and become a great threat to native U.S. plants. It spreads by seed and crowds out natives at an alarming rate. Starting small with a single stalk or small cluster, the plants spread quickly.
Not content to stay in the woods, Garlic Mustard (GM) is now on our parkways and in gardens in Wicker Park. The photo here was taken on the 2000 block of Pierce. Because it is in bloom now, this is the best time to pull it. It's very identifiable, and it's BEFORE it forms seeds. Seeds live in the soil five years, so it will need to be pulled again and again if it goes to seed.
Why do we want to protect native plants from invasive plants? Native plants are desirable because our birds and butterflies and bees are accustomed to them and they serve as food/nectar/host to these important critters. Invasive plants don't contribute to the ecosystem in the same way. GM crowds out the plants that are friendly, so there is less in our habitat to support our flying friends.
Please take a look at your yard and make sure you aren't hosting GM. Pull the entire plant and seal the bag and trash it. Do not compost! If you want to get involved on a bigger level, there are GM eradication programs at many parks and preserves. Google Garlic Mustard for more info. To participate in GM eradication in Humboldt Park, send an email.  
Related:
Crime Stats By District
Columnists