Rescue plants from Northerly Island for your garden or your community garden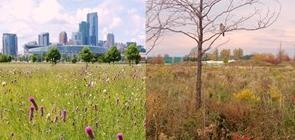 A plant rescue from 40 acres of Northerly Island Park, 1400 S. Linn White Drive, Sat., Oct. 27, between 10 a.m. and 2 p.m. can put free plants in your garden or your community garden.
These plants are not of local provenance, so they are not suitable for natural areas, but they are great for yards and other developed areas. They are prairie plants that require full sun.
Plant species include (in order of greatest availability):
Andropogon scoparius –Little Bluestem
Bouteloua curtipendula- Side Oats Grama
Monarda fistulosa- Wild Bergamot
Aster novae-angliae- New England Aster
Ratibida pinnata- Gray Headed Coneflower
Solidago rigida- Stiff Goldenrod
Verbena stricta- Hoary Vervain
The Chicago Park District (CPD), The Field Museum, Audubon Chicago Region and Openlands with the assistance of Greencorps will be on hand to help dig up plants. While they indicate that they will have shovels and bags, you may want to be sure to bring some of your own for transporting the plants home or to your community gardens.
This rescue is in advance of a $5 million Habitat Development project by the U.S. Army Corp of Engineers that will begin on Northerly Island starting in November. The plan calls for major improvements in native habitat, along with a modified landscape and grading plan. According to CPD, these improvements will create a higher quality and more diverse natural area for flora, fauna, and campers.  
Related:
Crime Stats By District
Columnists