Local School Council membership and elections are not just for parents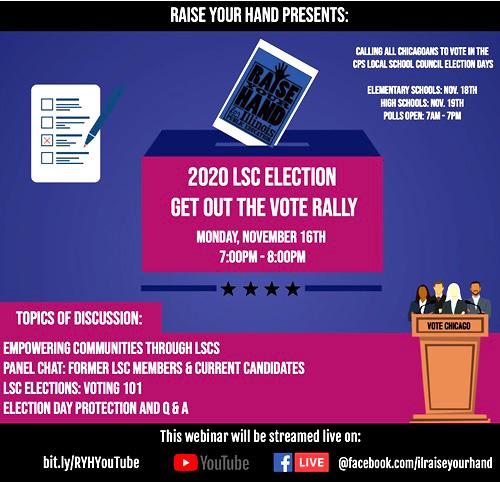 "Local School Councils (LSC) are not just for parents," says Jennifer (Jennie) Biggs, Communications Director for Raise Your Hand for IL Public Education. "LSCs were created on the belief that people whose children attend the schools and those who live in the neighborhood should have a say in what goes on in their schools. 
"They have become a pipeline for community leadership. Numerous LSCs have successfully fought for what they deserve, impacting entire communities. They are essential instruments of our democracy. Formed 30 years ago, LSCs are one of the most hyperlocal democratic levers in the country. They are the elected body that most closely represents the racial and economic demographics of this city." 
Each LSC has two community members and six parents. 
For voting, community members must be over the age of 17. They may vote in the LSC election within the district where they live. To locate the school or schools this site will list them for you, once you enter your address. 
RYH is holding a virtual get-out-the-vote rally on Mon., Nov. 16 from 7 to 8 p.m. Among their discussion topics are:
Empowering communities through LSCS
Panel Chat: former LSC members and current candidates
LSC Elections: Voting 101
Election Day protection and Q & A 
The Rally will be live streamed on You Tube and on FaceBook. 
Council membership
"Being a member of an LSC, whether or not you are a parent, puts you in a unique position because you can affect policies that can impact the quality of life in your neighborhood," explains, Peter Gariepy, who ran for City Treasurer last year and whose daughter is at Drummond Elementary School. 
"Policies include determining if a school should have a resource officer, measuring a principal's performance and reviewing what children's experiences should be. 
"Those influences speak to the quality of a school and quality of schools in a neighborhood affect the neighborhoods desirability." 
Gariepy points to a quote from a David Roeder story about increasing affordable housing by legalizing coach houses, rear-of-lot homes behind main building on a property in the Chicago Sun-Times, "Everybody wants cheap housing in Wicker Park or Lincoln Square. What about Garfield Park or Gresham, or any other place that can't compete for residents and jobs because of crime and bad schools? Chicago doesn't have a shortage of affordable housing. It has a shortage of safe, livable neighborhoods."  
Julie Dickinson, who is in her extended (due to the coronavirus) second two-year term as a parent council member at LaSalle II, pointed out that there are two community members on every school council as well as six parents. 
She believes that serving as an LSC member is a good and important role to play. 
Up for his third term as a community member on LaSalle II's LSC is Wayne Janik, Janik Café, 2011 W. Division. "It is important for the community to understand what is happening in the school. And it is important that the community learn when the school needs help." 
Voting for school council membership
Elementary School LSC Elections are Wed., Nov. 18
High School LSC Elections are Thurs., Nov. 19
In-person polls are open from 7 a.m. to 7 p.m. 
Community members MUST vote in-person. Sites are shown in this list. 
Curbside voting will be available for individuals with disabilities, individuals who cannot or forgot to wear a mask, and individuals who choose not to enter the polling place due to pre-existing health conditions. 
What forms of ID do I need to vote in-person?
The district does not track or check immigration status and community and parent voters do not need to be U.S. Citizens in order to vote.  
All in-person voters will need two current forms of identification with them to vote and community members should have documentation of their residential address (such as a lease or utility bill). 
Other acceptable forms of identification include a drivers license, Illinois ID, public library card, MediPlan or Medicare card, permanent resident card, matricula consular, voter registration card, current lease, utility bill, credit or debit card or court documents.  
RYH gives voter tips:
Make sure you only mark your choices with an X. Any other mark will not be counted as a vote & might result in your entire ballot being thrown out. 
You can vote for up to 5 candidates- don't make more than five X's! Voting for more than 5 may result in your entire ballot being thrown out.
The up to 5 candidates you vote for can be a combination of parents & community members. 
The deadline for LSC election judges to review, verify and certify all mail-in & in-person ballots is Dec. 1. Principals post the election results for their school by 5 p.m., Dec. 1.
Related:
Crime Stats By District
Columnists