Mayor Emanuel and Illinois General Assembly blasted by Raise Your Hand Coalition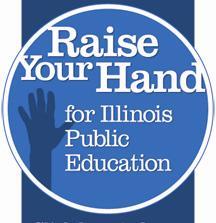 The Raise Your Hand Coalition is outraged by the Illinois General Assembly for passing a budget that cuts $171 million from education funding statewide. Moreover, the June 2 announcement from Mayor Rahm Emanuel and CPS CEO Jean Claude Brizard and their plan to slash $75 million from CPS central office on top of deep cuts at the school level is a disgraceful abandonment of Chicago's children. This announcement also undermines every promise that Emanuel has made about his number one priority - "our children and our schools."
Illinois has been facing an education crisis and deep budget cuts long before the recession began. Chicago Public Schools (CPS) are woefully underfunded and face an $800 million deficit if the state education budget passed by the Illinois House and Senate is signed by Gov. Quinn. In addition, the State of Illinois currently owes CPS $267 million. Despite an income tax hike this year of 67%, our legislators continue to disregard the most vital interest of our state: education. It's time to pay back what you owe, and pay forward with appropriate and increased education funding.
In Chicago, Mayor Emanuel and the CPS leadership have been silent about how they plan to fill the budget gap, other than to propose cuts in staffing and valuable programs, which have already been shaved to the bone. Raise Your Hand calls on local officials and CPS leadership to look at other sources to adequately fund the Chicago Public Schools, including reforming the Tax Increment Financing (TIF) system to halt the annual diversion of an estimated $275 million in CPS property tax revenues.
During his inaugural address, Mayor Emanuel called on parents to "get off the sidelines and get involved." He has also suggested that parents sign a contract to commit to being involved in the education of their children.  Raise Your Hand has this to say to Mayor Emanuel's request: "Mr. Mayor, the vast majority of parents are already doing their part - we signed our 'contract' when we signed our children's birth certificates. The real question is when are YOU going to start living up to your end of the deal and provide the 'world class' education that you believe our children deserve?"
Related:
Crime Stats By District
Columnists