No holds barred at City Council Special Education hearing despite CPS' hire announcement: Who holds the power?
One hour before the start of the City Council Special Education hearing the Friday before a holiday weekend, Jan. 12, at 2:30 p.m., with the Chicago Public Schools (CPS) interim CEO, Dr. Janice Jackson, CPS announced adding special education positions. Aldermen were angry
yet grateful. Despite the announcement parents, teachers and others relayed disturbing stories at the three-hour meeting.
While aldermen were unhappy with CPS' last-minute hiring plan announcement, they expressed appreciation to Jackson for attending the meeting and for promising to continue the dialogue in the future. However, their list of questions and comments was not short. 
They focused on:
the length of time it takes to identify a child as having special needs
Effectiveness and efficiency of guidelines and procedures
insufficient bilingual services in entire system
change to student based budgeting 
Jackson and Dr. Elizabeth Keenan, Chief of CPS' Office of Diverse Learner Supports & Services, provided some information about the past, present and future of student counts, funding and procedures. 
Parents, teachers and supporters of CPS' most vulnerable population told the stories behind the headlines of the time, costs, improper identification, regressions, frustrations and heart aches of getting the needs of 50,917 special education students met.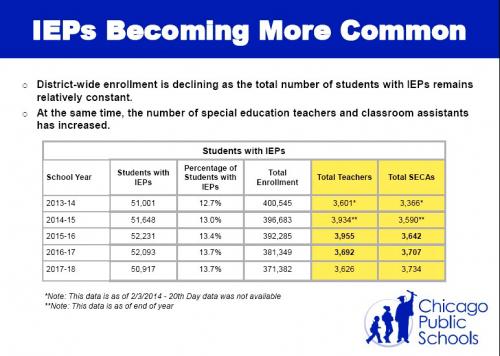 On Fri. Jan. 19, the State of Illinois House of Representatives Education Committee convened a hearing about special education funding where Jackson was asked about the overhaul of special ed funding as reported in October by WBEZ. She responded by admitting that cost was a "driver" in those decisions.
"So CPS did the usual Chicago thing," says Alderman Scott Waguespack in a tweet, "paid unqualified consultants $14 million to find ways to cut more from these children with disabilities.
"'This is a death by 1,000 slow cuts.'" This reference is to a statement by Matt Cohen, an attorney who has specialized in special education for 30 years, speaking about these cuts.
"The overall effect is really to wear parents down in every way that they can, and wear the staff down in every way they can, so that the ultimate outcome is giving less," said Cohen. "It is equivalent to the old fable about a death by 1,000 lashes. This is a death by 1,000 slow cuts."
The State of Illinois gave the Chicago mayor control of the Chicago Public Schools District in 1995. That move is what allowed school financials to be in the condition they are now with oversight in the hands of the Mayor and his appointed school board and CEO. 
With control of the entire education system in the hands of the Mayor and his Board of Education, the question is: does the CPS' administration, alderman, parents, teachers and other supporters have a chance to get Chicago's most vulnerable properly supported and educated? Or, will their intentions, plans and efforts continually be thwarted?
HEARING DETAILS
Chicago's City Council Progress Caucus began pushing for the hearing last October when WBEZ released an investigative report about a secret overhaul of the $900 million CPS special education budget affecting more than 52,000 children which was part of CPS' $5.7 billion total budget. Scheduled before Christmas, Education Committee Chair Howard Brookins, Jr. cancelled it.  
Alderman Ricardo Muñoz, 22nd Ward, for the Jan. 17 City Council meeting, filed an official notice of the 11 Education Committee member group's intent to invoke Rule 41 of the City Council Rules of Order. That rule would have allowed them to force the Education Committee to convene a hearing and consider the resolution the Progressive Caucus introduced regarding the special education funding scandal. Instead, the hearing was finally scheduled for Jan. 12 and Muñoz withdrew the Rule 41 notice.  
Noting that CPS changes could have already been implemented had the hearing been scheduled last fall. Alderman Harry Osterman, 48th Ward, said, "You have a hearing at 2:30 in the afternoon and at 2 o'clock there's 65 new teachers hired for special education."  
"My colleagues in the Progressive Caucus* — that's the power of a hearing!"  
Progressive Caucus Chair Scott Waguespack, 32nd Ward Alderman, said, "I find this announcement today to be offensive. I don't appreciate having to wait this long to get  answers to things our parents have been continually bringing up. Not holding this against you [Dr. Jackson], but your predecessor's approach to all this was condescending to me and my parents and those across the city. This was true of the Board too who sat there and let him do it.  
"If you are proactive, as you say you are going to be, if you are going to be transparent, you're not going to send us emails to us at 1:55 on Friday and have these parents show up and hundreds others who could if it were in the morning or evening…. I find this very offensive and irritating. It is not the way to start out, but I hope that changes."
A letter from committee member Susan Sadlowski Garza, 10th Ward Alderman, who was unable to attend the meeting, was read by Muñoz. Garza was a CPS educator for 22 years before being elected in 2015. 
"Education is my passion. No one knows as I do the disinvestment that the Board of Education has implemented over the past years. The students that need the most resources are being left behind.
"At CPS, my student-to-counselor ratio was 896 to one. Our diverse learning team consisted of one social worker, one day a week, an occupational therapist who was servicing 13 schools, and a special education teacher who was also the case manager.
"Simply put, our children were not getting their federally mandated needs met.
"Sadly this is not isolated to my school. This is happening in classrooms all across the City."
All of the aldermen who spoke emphasized the fact that they appreciated Jackson attending the meeting and promising to continue the dialogue in the future. Osterman further asserted the fact that there are 50 aldermen in City Council, all who want to help.
Note: The head of CPS last met with Chicago aldermen during Ron Huberman's (2009-10) tenure.
Presentation by Jackson and Keenan
The presentation from Jackson and Keenan covered CPS': Mission, Need for Reform, Policy Reforms, 65 Special Ed adds and Future Directions.
To fulfill the mission of high quality education for all, they stated that every special needs student is entitled to an Individualized Education Program (IEP), outlining resources and practices required to ensure students have a level playing field.
They noted that for two years there has been reform work done on:
Uniform guidelines
Early Interventions
Racial over-identification
In 2016 they made policy reforms in guidelines for transportation and the Paraprofessional Justification Form. In 2017 they worked on the Special Ed Procedural Manual, which had not been updated since 2002.
Explaining the newly announced positions, they noted that 56 are school-based positions while 9 are citywide positions. The annual investment for these positions is to be $5.2 million, with half that being spent in this school year.
As part of their future plans, they will hire three full-time parent involvement specialists and train a group of part-time parent ambassadors to help assist families with the IEP process. By March, they plan to create a special education parent advisory council.
Response to presentation
Knowing that the secretly approved cuts, according to the WBEZ report, had limited services like busing, one-on-one aides and summer school and that those charged with providing the services had deep ties to CPS CEO Forrest Claypool, the aldermen had very specific questions
Michele Smith, 43rd Ward Alderman, said that she was looking for a better understanding about what had happened in the last few years that accounted for the current situation. "About five years ago, we were told that the CPS Special Educational Program was functioning above average standards and now it is below."  
She was told that was based on the unintended outcomes of switching to student based budgeting. An uptick in requests for additional special education teachers was actually a way some principals saw to get additional staffing for the school not just special ed.
John Arena, 45th Ward Alderman, pointed out that there was disparity in services for Black and Latinos. "Are you rethinking and readjusting student based budget?"
In the last year, the administration has been working to achieve an efficient balance of teaching staff, they were told. They are doing training on how to ask for resources and how not to make too many changes too fast. 
Jackson also said that decisions for appeals and other issues have been in the hands of too many people. She is spending time now on changing some of those processes.
Alderman Leslie Harriston, 5th Ward, expressed concern that CPS has lost sight that their business is that of being educators. However she and Alderman Sophia King, 4th Ward, expressed that they are happy that an educator is finally in charge of CPS. 
Advocating for better communications between staff, parents and students, Munoz pointed out that it is not that parents do not understand the system but rather that they can not communicate with the staff. 
The lack of enough bilingual staff also has ramifications in diagnosing a student as special needs. Sometimes it is difficult to know if the students problem is language versus a learning issue or has a dual problem.
Muñoz also asked, "What has created the choke-hold around identifying students? What are you going to do about it so that our special ed students are not waiting 20, 25, 45 days to be evaluated? And than establish an IEP for them since the bulk of problems are because of under-staffing?" 
Parents, teachers and others
Several people told their stories of endless time spent in attempts to work with the "system" and how students were at risk for their safety physically and psychologically. Here are a few.
One mother said that since 2012 she has been in a battle with CPS to preserve the rights of autistic children in compliance with the American for Disabilities Act, which has been consistently violated.
Program changes, bad staffing, harassment of her daughter who was lost from a bus and found wandering on street have been part of her challenges. In addition she has dealt with her son being bullied and beaten in the class room, as she has logged over 3,000 hours in the last 4 years dealing with CPS.
Another mother fought back tears as she told that she received a call from school because of her daughter behavior in school. Her arrival at the school made her realize that her daughter was having a panic attack.
She was nine and the school staffing was inadequate. This mom has a flexible work schedule but pointed out that not all parents do. "The last two years have been brutal, even with my efforts, our kid's progress has yo-yoed back and forth."
One parent said that she was lucky. Her experience with CPS special ed was good. The diagnosis was right and her child blossomed. But, she knows that is not true for many.
A teachers union spokesperson said that part of the problem is that staffing is down. There are over 200 unfilled positions.
A teacher said that cuts began in 2015. But, this is Federally protected which must be fulfilled. So, CPS hired in consultants to put in blocks. She explained that such a move hindered use of services, added difficulty for teachers and teacher retention becomes more difficult.
She went on to say that it was student based budgeting that caused the loss of a "ridiculous amount of school staff that affects the whole school."
Munoz translated for a mother of an Asperger's student. Her son was mis-diagnosed. He has been bullied and there is no plan for him, despite the fact that he has three professionals assigned to him.
They are not trained to work with someone with Asperger's. When students act out, teachers treat him as being aggressive. 
"It is sad for him because his lack of social skills prevent him from making friends and teachers do not know how to help, so he is alone."
Another teacher spoke. She is currently on suspension because she spoke up to CPS when there was an attempt to cut 20 students from the program.
It was pointed out that there would have been many more parents present at the hearing if the timing of the hearing would have been early in the day or later in the afternoon.
*The Progressive Reform Caucus includes Ald. Sophia King (4) Ald. Leslie Hairston (5); Ald. Roderick T. Sawyer (6); Ald. Susan Sadlowski Garza (10); Ald. Toni Foulkes (16); Ald. David Moore (17); Ald. Ricardo Muñoz (22); Ald. Chris Taliaferro (29); Ald. Scott Waguespack (32); Ald. Carlos Ramirez-Rosa (35); and Ald. John Arena (45).
Related:
Crime Stats By District
Columnists