Open campus scheduling supported by Raise Your Hand Coalition and Chicago Teachers Union leadership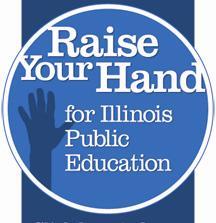 Promoting and advocating for the Chicago Public Schools (CPS) to re-instate an "open campus" scheduling which provides a recess and longer lunch period, the Raise Your Hand Coalition (RYH) launches its Fit for Learning campaign. According to the Coalition, the cost implications of adding forty-five minutes to each school day will vary by school but will be low cost or budget neutral in many cases.
Unlike the current "closed campus" schedule, adopted by most CPS schools in the 1970s, the teachers would take their forty-five minute lunch break during the day, rather than at the end of the day, after children have left the building.  The Fit for Learning campaign supports a modified version of the open campus schedule, which would not allow students to go off school grounds for lunch, but would allow them extra time to go outside on school grounds and have more time for lunch. Under the modified open campus schedule option, schools can contractually take a site-vote to do this now, according to Amy Smolensky of RYH.
Standing with leadership from the Chicago Teachers Union, Patricia O'Keefe of RYH spoke before the CPS Feb. 23 board meeting requesting the board to "work with RYH to renew, promote and encourage schools to adopt the Modified Open Campus option-an option that will result in a better, more effective learning environment for hundreds of thousands of children."
"Parents, teachers and administrators have been talking for years about the fact that the Chicago school day is the shortest in the country.  Yet, the effort and cost to lengthen the day has always been presented as an insurmountable roadblock to offering a more well-rounded school day," said O'Keefe.  "We are shedding light on a policy option that has been sitting under our noses and will allow us to do what most people feel is the best thing for our children at a minimal cost."
Shifting to a modified open campus model will be cost neutral for many schools and have low cost implications overall. Costs implications will primarily be for additional student supervision during recess and lunch.  In many schools, this duty can be incorporated into the current work day for existing staff at no cost, while some schools will require some compensation for added supervision.
Raise Your Hand will be hosting an informational meeting to discuss the "Fit for Learning" campaign on Wednesday April 6th from 7 to 8:30 p.m.  The meeting, which is open to the public, will take place at Waters School, 4540 N Campbell Ave.
Learn more about the Fit for Learning campaign on the web or contact Amy Smolensky at 312.385.0053.
Related:
Crime Stats By District
Columnists