Raise Your Hand Coalition: Extended school day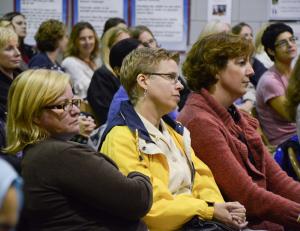 The Raise Your Hand Coalition (RYH), an education advocacy group representing thousands of parents throughout Chicago and Illinois hosted a meeting on Tues., Sept.27 at Coonley School to discuss the issue of extending the Chicago Public Schools (CPS) school day.
Approximately 130 audience members - primarily parents and teachers, heard from Raise Your Hand members as well as comments from Alderman Ameya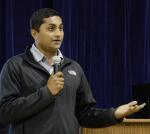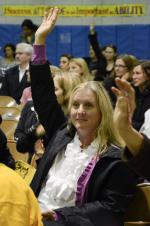 Pawar (47th Ward) and representatives from CPS and the Chicago Teachers Union (CTU). During its meeting, RYH announced the results of its survey focused on extending length of the CPS school day. According to the survey 68% of respondents favor a longer day.  However, 83% of survey respondents prefer a school day that does not exceed seven hours. In addition, based on both quantitative and qualitative feedback, respondents overwhelmingly expressed that quantity should not trump quality in extending the day.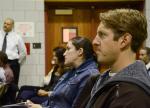 In addition to math and reading in an extended day, the Raise Your Hand survey respondents also rated recess, music, art, physical education, technology and foreign language studies as "very important" aspects to an extended day schedule. The item that parents rated with the lowest level of importance is "test preparation."

In its support for extending the school day, Raise Your Hand maintains that any extension of the day must go hand in hand with a quality, well-rounded schedule including foreign language, arts and physical education as well as critical unstructured time that comes with recess. Raise Your Hand asserts that adequate funding is a decisive factor in ensuring that quality of time is on equal par to quantity of time in extending the school day. Raise Your Hand raised concerns about the lack of communication from CPS and Mayor Emanuel about specific plans and funding for an extended day at a time when CPS already faces a budget gap that has resulted in significant cuts in staffing and valuable programs for years.
About the Survey
From Sept.12-26, 2011 the Raise Your Hand Coalition conducted a survey on the topic of "CPS extended day" via its website. There were 1,222 unique respondents representing parents and teachers from 230 CPS schools participated in the survey. Respondents included 1063 parents, 88 teachers, and 78 who were both parents and teachers.
Photos courtesy of  Sarah Tilotta
Related:
Crime Stats By District
Columnists