Raise Your Hand Coalition protests funding cuts at Madigans loop office but praises CPS Recess Plan Guide
"Education cuts never heal" and "Speaker Madigan stop your cuts" were the chants of the crowd, organized by the Raise Your Hand Coalition (RYH), that marched to Illinois Speaker Mike Madigan's LaSalle St. office on Tues.,  May 24. This followed a rally in the Thompson Center Plaza, during which several speakers pointed out that during Madigan's twenty-nine years in office, Illinois fell to the 49th state in education funding and that funding is based on zip code.
"Education has not been a priority in our state and it does not matter what year it is. We have a chronic problem of under funding our children in Illinois.  Basically your zip code determines your educational funding in Illinois and that is wrong and  unfair and we need to keep standing up for proper funding every year no matter how tiring it is," said Wendy Katten, one of the co-founders of RYH.
"We are in a budget crisis, that is true. But I do not know what the excuse was  five, seven and ten years ago when parents stood in this same place talking about the same issue. We need to invest in children now, it pays later in life.
"The Senate did pass a bill that would tie a tax income to education but it never went thru to the House. Instead we got a 67% income tax increase with nothing for education."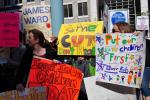 More details can be found about the "No Cuts Campaign" on their website.
On the other hand, RYH is thrilled with the release of the Chicago Public School's (CPS) Recess Plan Guide. RYH shedding light on this topic at the CPS board meeting in February. They encouraged CPS to consider shifting from the abbreviated school schedule currently used at most schools back to the traditional school day model that would allow for an extra forty-five minutes and create additional time for recess and lunch. In collaboration with CPS they worked to create a solution that will renew, promote and encourage schools to adopt the Modified Open Campus option-an option that will result in a better, more effective learning environment for hundreds of thousands of children.
RYH said that they are delighted that CPS has taken this big step in the movement to allow more time for recess and lunch. Currently only 37% of CPS schools have any recess, so there is a lot of work to be done.  They look forward to continuing to work with CPS, Healthy Schools, COFI and other stakeholders to ensure that the schools adopt the new scheduling option that will create a better
Related:
Crime Stats By District
Columnists