Raise Your Hand Coalition update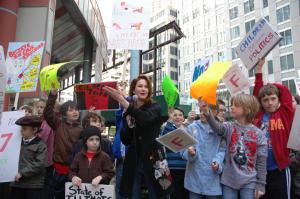 As you know, the State of Illinois is in crisis.  Illinois ranks 48th out of the 50 states for school funding.  Yet under the Governor's initial budget proposal, education funding would be further reduced by $1.3 billion and Chicago Public Schools (CPS) would face a $600 million deficit. Our schools would be drastically impacted: increased class sizes of up to 35 students; layoffs of more than 2,700 teachers; and major reductions in programming.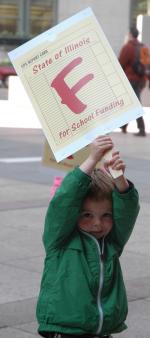 Outraged by these cuts, the Raise Your Hand Coalition (RYH) was born.  Raise Your Hand is a growing coalition of Chicago public schools, including Drummond, LaSalle II, Diego, and Burr, and other organizations advocating for appropriate, equitable and sustained funding for public education.  RYH has grown from 12 schools to over 100 in less than 2 weeks and from 1 to over 700 members on Facebook. The Coalition has organized two rallies in Chicago attended by over 1,500 people.  Under the guidance of Jonathan Goldman, Drummond representative and public interest advocate, RYH traveled to Springfield to meet with elected officials.
The Coalition's voice has been heard throughout CPS, City Hall and in Springfield. RYH is pleased that the Senate passed a budget that has level funding for education. Now RYH is reaching out to our state representatives and asking them to continue to hold the line and find a budget solution that doesn't involve cuts in education. RYH is holding all of our elected officials responsible and is watching everything they are doing (and not doing) closely.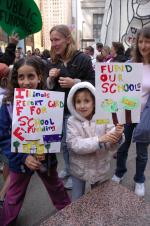 Would you like to help? Send letters to your local representatives using the NoTo37 website.  Noto37 is the fastest and most efficient way for you to voice your support for education in Illinois. With over 100,000 messages sent in just a few weeks, NoTo37 connects users with their specific state senators and representatives, provides an editable message, and allows one-click sending.
The entire process takes less than 60 seconds, and you can share the site through any social media service using tools included on NoTo37. The site is available in Spanish, Polish and English and was custom-built by volunteers using sophisticated mapping and email processes to ensure accuracy and speed of service.
Other ways you can help:
Learn more about the Raise Your Hand Coalition here
Join the Raise Your Hand Coalition Facebook page: Raise Your Hand - CPS Parents for Fair Funding
Call Mike Madigan's Springfield office, Tom Cross, House minority leader and your representative in the House!
Visit legislators in person and explain how you feel about the lack of support for this budget that included funding for our schools! You can find their office locations using the www.noto37.org website or call your alderman's office for that information.
The time to act is NOW!  A level budget must be passed as soon as possible so schools can plan for the upcoming school year.
Related:
Crime Stats By District
Columnists