State of Illinois given an "F" for school funding : Report 1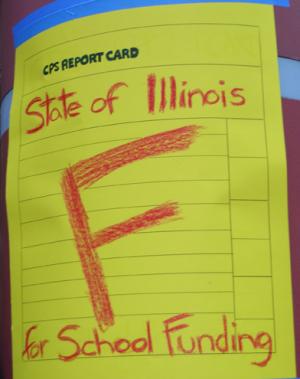 State of Illinois was given a report card with the grade of "F" by parents, teachers, students and government officials this last week. Reasons include the facts that: Illinois' contribution to the state school budget is approximately 33%  while the national average is about 50%; funds have been reduced four times in the last five years; Illinois ranks 48th or 49th among 50 states in funding for public schools; and annual expenditure per child ranges dramatically between $5,000 and $18,000 per student.
Hundreds gathered on Wed., April 21 in the loop's State of Illinois Plaza for a March to protest the $1.3 billion cut in state funding for the next budget year.  In Chicago these cuts will result in an additional $300 million deficit. Budget cuts will include class size increases to thirty-seven, program cuts and staffing cuts.
Many local schools were represented at the rally including Burr, Pulaski, LaSalle and others. Scott Waguespack, 32nd Ward Alderman was the only alderman who spoke at the rally prior to the March.
"Parents have been putting in tens of thousands of dollars into the schools to prop them up in my area.  Now Chicago Public Schools (CPS) wants to pull the rug out from under them,"  Waguespack said in a post March conversation.  "It is good that the parents are getting more involved, but they should not be funding the basics in the schools, it is not right. Increasing class sizes and cutting pre-k are not right either.  Pre-k cuts, for example, will cut a year out of a children's education  during the most formative part of their lives."
"Corruption is financially drowning us in the city, county and state.  Instead of raising taxes and cutting budgets, corruption needs to be cut. It seems that Mayor Daley and downstate legislators do not want to bring people in who are going to put a stop to this corruption cycle, "  Waguespack stated.
A CPS $475 million deficit for Fiscal Year 2010 was covered by efficiency improvements and one-time revenue opportunities according to CPS'  Ron Huberman, CEO in his March Budget Briefing for Fiscal Year 2011.  According to that report, projected operating deficits would be at $1.7 billion by 2014.  Estimates for 2011 were deficits of $1 billion, including possible state cuts of $300 million.
Related:
Crime Stats By District
Columnists