Wild fire spreading quickly about proposed state education funding cuts: Report 2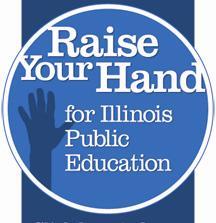 March in the loop's State of Illinois Plaza on Wednesday fanned the flames of unrest concerning the proposed $1.3 billion state education funding cuts.  Parents' Raise Your Hand Coalition formed on Thursday to plan next actions and Chicago Public School's (CPS) Ron Huberman, CEO held a Friday press conference that included more pleas to state lawmakers to back off Governor Quinn's proposed cuts.
A majority of the parents,  at the rally plus others met on Thursday and decided to take the work of two parents, Christina Schneider and  Lina Hilko from Franklin Fine Arts Center to the next level.  Their Raise Your Hand efforts  were established as a Coalition addressing the proposed 2011 budget cuts, establishing a long term solution for equitable school funding, and having Governor Quinn keep the general assembly in session until they address  public school funding.  There is the possibility that the State governing bodies could end their sessions on May 7.  The General Assembly does not reconvene until three weeks after school begins.
The Coalition is asking for participation from all parents and educators.  Everyone is encouraged to go to the NoTo37 website that will send the participant's concern to their legislators or help find them find their legislators. Participation is being encouraged state wide.
The next Coalition meeting is scheduled for Thurs., Apr. 29 at 7 p.m. at Coonley Elementary, 4046 N. Leavitt. The goal is to have each school send one or two parents representing their parent/teacher association and local school council.  Further information maybe obtained from Christina Schneider and  Lina Hilko.  LaSalle School parent participants who are mobilizing efforts are Karen Moran and Ronda Locke.
Ron Huberman held a press conference with dozens of community, faith-based  and labor leaders, as well as  educators, parents and students sending a plea to state lawmakers that the State must live up to its school funding obligations.
According to the CPS press release the following participated: Rev. Leon Finney, the Rev. Roosevelt Watkins III, Chicago Teachers Unions President Marilyn Stewart, Chicago Urban League retired CEO James Compton, United Neighborhood Organization CEO Juan Rangel, Illinois Association of School Administrators Executive Director Dr. Brent Clark and CPS parent Amy Smolenski, who also represented the Raise Your Hand Coalition, and Smyth School Principal Ron Whitmore were joined by Chicago Board of Education Member Roxanne Ward, CPS Chief Education Officer Dr. Barbara Eason-Watkins, CPS Chief Financial Officer Diana Ferguson, Chief Administrative Officer Robert Runcie and other members of the senior staff.
Additional supporters included: Emma Arnold and Deverra Beverly ABLA-Chicago Housing Authority; CPS teachers Mike Beyer of Talman School, Terrence Simmons of South Shore High School and Juanita Thurman of Lincoln Park High School; Craig V. Gordon, vice chair of the Smyth School Local School Council; Karen Moran, CPS parent and Raise Your Hand Coalition; Lou Sandoval, CPS parent and businessman; Mark Flores, chair, Latino Advisory Council; Alan Castro, board president, East Village Youth Program.
Others included: Michael Milkie, CEO, and Jessica Flores of Noble Street Charter Schools; Nancy Harris, CPS parent; the Rev. Steve Jones, president, Baptist Pastors Conference; Michael Cotter, Leadership Association, Chicago International Charter Schools; Daniel Anello, director of external relations,  CICS; Taalib-Din Ziyad, vice president, Local 73 Service Employees International Union; Pastor Freddy Santiago, Rebano Church; Steven and Javier Jugo, Citywide Security Group; Delora Scott Wimberly, parent and Smyth School LSC; Olga Frances Chini, president, Saldemar Solutions Technology Consulting.
Also in attendance were: Sylvia M. Ewing, deputy director, Illinois Network of Charter Schools; Denise D. Ferguson, director/community liaison, Chicago Commission on Human Relations; William Ialulla and Dennis Lechowicz, Local 143, International Union of Operating Engineers; Lauren Pacheco, Chicago Urban Art Society; Jose Barrera, principal and chairman, Columbia Explorers Academy;  Sarah Cobb, executive director, Neighborhood Parents Network.
Related info: House Bill 174 Fact Sheet; March at State of Illinois Bldg
Related:
Crime Stats By District
Columnists