Bike registration can get you a free helmet or lock on June 11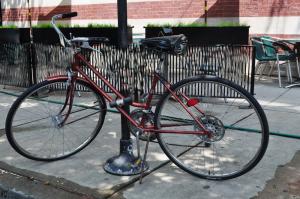 If you are among the those bringing your bicycle to the Police Department bike registration on Sat. June 11, between 11 a.m. and 1 p.m. in Smith Park, 2526 W. Grand Ave., you may receive a free helmet or lock. Giveaways are while supplies last.
Why register? The Police Department has a storeroom filled with unclaimed bicycles. When a bicycle comes into the Department, the bike number is put on a report. The Department will then contact the person listed on the registration.
So be sure to register your bicycle with Chicago's finest. You can register on line at the Chicago Police Department's ClearPath site, if you prefer. Before registering your bike, you must have an account on ClearPath which you can do from this link.
Related:
Crime Stats By District
Columnists