Italian master bead maker and his beads visit Wicker Park March 21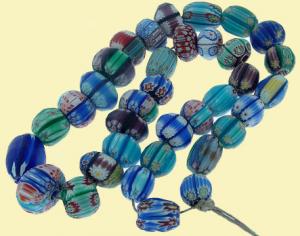 Glass and bead making is a way of life for Luigi Cattelan whose family members have been blowing glass in Italy since the 15th Century.  The Murano glass factory, for which he worked for twenty years closed primarily due to foreign competition from the Czech and Asian markets where labor is cheap. 
Left without a steady job, Cattelan decided to launch his own bead making business. The only Muranese producing chevron beads, he subsequently began selling chevron beads into the Italian and African markets.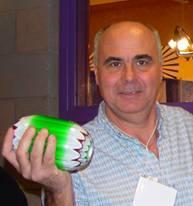 Five years ago, Nancy Stark, a Wicker Parker who had become enthralled with beading, attempted to connect with Cattelan via the internet repeatedly but there were no return emails.  Not to be deterred, she found out where he lived and during a trip to Italy she went to his front door and knocked.  No answer.  No meeting. 
Cattelan's wife Nicole Anderson, originally from Michigan, and Stark begin communicating by email.  About two years later, Stark learned that the Cattelans would be at the annual February trek to Mecca, the Bead and Gem Show in Tucson, AZ.  On a mission to meet the great master and her new email pal, Stark attended the show that year, though none since.   She explains, "You try walking past miles and miles of the worlds shiniest (beads) and see how much of your checking account is left when you come home. I have never returned because I know I'll spend money I can't afford." 
Last year the Cattelans came to visit as they drove across the country after the Tucson show doing Truck Show sales of Lugi's beads, pendants, necklaces along the way.  This year they are setting up shop on Sun. Mar.21 in Nancy Stark's office at 2128 W Evergreen, Number One, between 11 a.m. and 4 p.m. Stark says, "There will be hundreds of designs and thousands of beads, pendants, and necklaces for sale, all made by Luigi. Prices range from a dime to hundreds of dollars. These beads will eventually be collectors items-in another 25 years there will no longer be a glass industry in Venice."
Related:
Crime Stats By District
Columnists