Millennials, GenX, Hipster and Gen We: What is behind the labels?
As I was doing some online searching for "millennials" and "hipsters," for the 25 cities story, I came across a website. Actually the story* title "Millennials (A.K.A Mostly Hipsters) blaming others for their uselessness" is what caught my attention. 
Rather than write out definitions for the labels, I thought it would be more interesting and fun to have you make comments after viewing the video "Millennials: We Suck and We're Sorry." 
As you will see, they talk about themselves but then…they talk about maybe you or a friend. 
On the other side of the video, you, like me, will want more. You'll get that. There are perspectives from Pew Research, Forbes, Bloomberg and The Daily Show. 
Warning: not everyone uses the same age range for each label, So buckle up your seat belts, put on your crash helmets and click on the arrow below. See you on the other side.
Well that was fun…interesting…but what is this all about? "It's about marketing."  "It's about trying to understand how to talk to your friends and family." "It's wanting to be part of a group, or at least defined as part of a group, be it real or virtual." 
Each age range has different attitudes and interests based on the environment of the time in which they grew up…World War II, 9/11, the economy, technology etc. As groups age, their views, beliefs and attitudes often change based on environment and good old fashioned experience…good and bad. 
A recent report by the Pew Research Center and a new book by Paul Taylor, The Next America: Boomers, Millennials and the Looming Generational Showdown, appears to be driving much of the current interest in this subject. His appearance on The Daily Show. 
An article in Forbes produced the chart below. Note that "hipster" is not used. In our 25 cities story, Niche.com labeled "millennials" as being between 18 and 33 with "hipsters" falling between 23 and 45. Mary Meehan, the article's author, suggests those born after 1995 be labeled as "Gen We."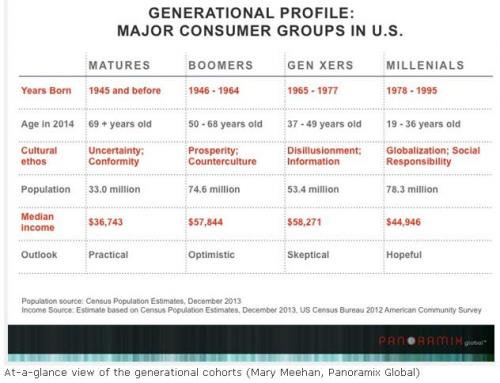 Bloomberg took the Pew data and produced a visually interesting view of our changing population and what it means as the age pyramid changes to a rectangle by 2060 and the white majority becomes part of a rainbow. (If you do not see the images change, use a different browser.) 
What do you think about the labels and descriptions? Write it below or send us an email.
*The author of the story is named "diehipster." Local 1st Ward Alderman Proco "Joe" Moreno will probably like that name.  "I don't like the term 'hipster.' I consider that I am part of "Gen X."
Related:
Crime Stats By District
Columnists