Consistency
I am super excited to begin this journey writing about health, fitness, nutrition and all things active for the Our Urban Times Community. As a certified personal trainer and group fitness professional located right here in Ukrainian Village, it is my hope to bring to you information that is both useful and applicable in your day-to-day life. Every three weeks I'll be contributing my thoughts on how to stay on track to being healthy and fit. 
CONSISTENCY: Step one in being healthy and fit 
Staying on track to be healthy and fit, where do you even start, right!? 
There is so much content out there that it can be overwhelming and downright off-putting to know the right place to begin. I can tell you this much, CONSISTENCY is where it's at when it comes to starting off on the right foot. 
If there is one thing the human body really digs, it's a routine. 
Our brain and muscles really benefit from repeating an activity consistently. It creates muscle memory, prevents injury, and helps us get strong. 
Here's where your creativity comes in, choose at least two group fitness classes or workout videos online each week that you can commit to consistently. Put it in your calendar along with your other weekly obligations so it doesn't get lost in the shuffle or your iPhone notes! 
For example: Monday = 6 p.m. 50-Minute Spinning, Wednesday = 6:30 p.m. 30-Minute HIIT (High Intensity Interval Training), and Friday = 5 p.m. 75-minute Yoga.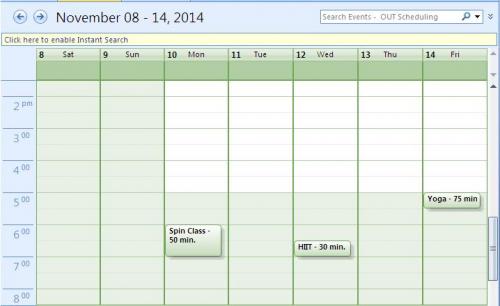 Acclimating your body to a set schedule is THE key to reaching your fitness goals. 
No matter where you are starting from, creating a routine and sticking to it is the only way to achieve sustained results. Doing this will also raise your overall energy level and keep your metabolism running steadily throughout the week. 
Keep a journal of the activities you're doing each week--whether it be at the gym, outside in the park or in your home. Then you have a log of what you have accomplished over time. 
Once you've planned your workout week, make an effort to workout around the same time of day to aid in building that consistency your body craves. Stick to your set routine for a few months (12-16 weeks) and then be ready to switch it up again to keep your body guessing and progressing. 
Keep me posted on your progress and enjoy the remainder of the month with some seasonal outdoor activities before it gets too cold out there! (Like before Tuesday!)
Related:
Crime Stats By District
Columnists