"Rose and the Rime" energetic and fun at the Chopin Theatre
Charming, fun, exuberantly energetic, dark, funny, blindingly sunny, happy and sad are but a few of the words to use when talking about the House Theatre's new production of Rose and the Rime at the Chopin Theatre, 1543 W Division St., on the Polish Triangle where East Village, Wicker Park, Noble Square and Pulaski Park neighborhoods converge. 
The charm greets you as you walk into the dimly lit main stage. "Snow" is gently falling from the rafters and snow covered miniature lit buildings on poles line the stage area. As with House Theatre's Nutcracker, "snow" on stage becomes the center for much joy and activity of children in the audience. They scoop it up, run with it, throw it, lay in it and squeal, giggle and laugh…and that is before the show begins. 
Sounds of music, howling winds and a chime open the show. You see Rose, in her bright yellow jacket/cape and hat, with her sled in a vast snow nowhere outside of Radio Falls, MI. She meets a white bunny with whom she attempts to have a "conversation." The bunny (a puppet on the hand of multiple ensemble members, dressed in white snow outfits) who continually disappears only to pop up elsewhere on the set. Her efforts to offer the bunny some hot chocolate immediately engage the audience. Then the ungrateful furry beast bites her! 
A voice is heard calling Rose. It is Uncle Roger, calling on a short wave radio, checking to see if Rose is on her way home because curfew is nearing. Rose arrives safely back home and the show is off.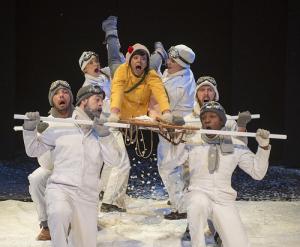 It tells the mythical tale of a curious young girl played, deftly by Paige Collins, who has gotten to the point where she wants to know about her parents and why/how the arctic Radio Falls, a town by the lake,  is no longer a sunny warm place to live. She demands that Uncle Roger, empathetically and compassionately played by Michael E. Smith, tell her the truth. 
She learns that a the Rime witch confiscated a golden coin and with it the sun and warmth. Some how her parents were involved in that tragedy. Determined to obtain the coin and break the curse that has "frozen" her town, she takes off to find the witch and bring back the warmth. 
There are wolves in a forest to outwit, rough terrain to traverse and then the confrontation with the Rime witch that Rose must battle on her journey. Throughout her challenges, the audience feels a part of her experiences thanks to the staging talents of choreographer Tommy Rapley, the inventive scenic design by Collette Pollard and Kevin O'Donnell's music 
Rose does it! It wasn't easy. She finds love, Radio Falls neighbors strip off their snow gear and get rid of their snow shovels, enjoying beachwear and the warm rays of the sun. But as with many tales…one must be careful for what one wants.  What will you do with your newly acquired treasure and how will others behave? 
Rose and the Rime does not have a feel-good fairy tale ending. There are parts of the production that drag and need some clarification, BUT it is a show to see and enjoy….and you will enjoy! It continues at the Chopin through March 9.
Nathan Allen puts another well deserved notch in his writing and directing belt as Chris Mathews and Jake Minton once again add their play writing skills and talents to their respective playwright belts. All are members of the House Theatre of Chicago. 
Founded in 2001,The House's goal is to become a laboratory and platform for the evolution of the American theatre as an inclusive and popular artform. Allen is one of the group of founders and he is their Artistic Director and champion.
*Photos by Michael Brosilow
Related:
Crime Stats By District
Columnists