Shortcuts Competition is open to Illinois filmmakers for 7th year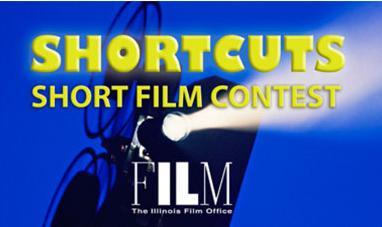 Illinois filmmakers are invited to enter the statewide short film competition sponsored by the Illinois Film Office (IFO). Designed to showcase local production talent, this is the 7th year for the contest. 
"We have a community of talented, unique filmmakers and we encourage them all to help make our seventh Shortcuts Competition the most exciting one to date," said Betsy Steinberg, managing director of the film office, which is part of the Department of Commerce and Economic Opportunity (DCEO). 
Contest entrants must be Illinois residents over the age of 18 or students over the age of 18 who attend Illinois colleges and universities. The winning entry will receive a cash prize and will be screened during the 50th Chicago International Film Festival this October. 
Participants may use any format (film, video, graphics and/or animation) for a narrative story, a documentary or free form visual expression of ideas. Submissions must be 15 minutes or less in running time. Entries will be judged by a panel of film industry professionals. Submissions will be accepted through Sept. 2, 2014. More information about the Shortcuts contest and the IFO may be found online. 
Last year's winner was The Painter written and directed by Kevin Cooper and produced by Deanna Cooper. The Painter portrays a boy who lives in a world where violence surrounds him and his sole means of survival is to escape through his art. 
Produced by Amarok Productions and filmed at Columbia College's Media Production Center, film features a cast of Chicago South Side youth. Amarok worked with two highly-regarded Chicago organizations that help children living in high-risk neighborhoods: UCAN and Youth Guidance. Children from both organizations played roles in front and behind the camera. 
In 2013, the Illinois film industry accounted for $358 million in local spending. Filming included an all-time high six episodic television series shooting entirely in Illinois. With the series Chicago Fire and Chicago PD both renewed for new seasons as well as pilots and films under way, 2014 is looking like another highly active film industry year. 
DCEO and the IFO are dedicated to advancing Illinois' reputation as a world-class film destination. The IFO promotes and markets the state as an ideal shooting location for films, television shows and commercials. The IFO also promotes and encourages the training and hiring of Illinois residents who represent the diversity of the state's population.
Related:
Crime Stats By District
Columnists