"A Walk in the Woods": Lessons in life and negotiations
Set in politically neutral Switzerland, A Walk in the Woods* directed by Spartan Theatre Company's Artistic Director Patrick Belics at the Den Theatre, 1333 N Milwaukee Ave., in Wicker Park, takes on the 1982 real life inspired incident of international negotiations between two men. However, Belics chose to be gender neutral in casting. 
His wise choices were Sara Pavlak McGuire as the young American negotiator Honeyman and Vincent Mahler as the seasoned Soviet.
This choice illustrates that gender and even point in time do not diminish the lessons of a well told story.
Both were excellent choices for conveying the frustrations of their jobs, their on-the-job experience, their different points in life and the tension of being individuals versus negotiators. Both handled humor and drama well as their characters. 
Botvinnik wants to take a deep breath, in the woods, away from the press. The many years of negotiating have made him less optimistic about agreements and more interested in "smelling the flowers," understanding and liking his American counterpart. 
Honeyman is not interested in building a personal friendship. Rather she wants to have their countries come to agreement. She is all about business, driven by a passion for success and fulfillment. 
Both Pavlak McGuire and Mahler play their roles believably well, using the stage real estate and their physicality to express emotion and keep the audience engaged. 
Play's Beginning
The two-person Lee Blessing play was first performed as a staged reading in 1986 and as a play the following year by the Yale Repertory Theatre in New Haven, CT. It hit New York's Broadway in 1988. 
United States and the Soviet Union arsenals, in that era, were stock piled with incomprehensible amounts of destructive power. Internationally people were concerned and anxious. [Perhaps not unlike some present day concerns and anxiety over the U.S. presidential race.]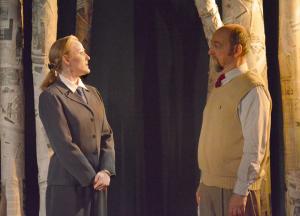 Author Speaks to Gender
The author spoke to the gender issue in a review of the 2014 production by New York's Keen Company when Kathleen Chalfant played the Soviet diplomat's role.
"I've formally been asked for my approval to change the gender of one or the other negotiator in this play four times, that I recall. In each case I gave it. Some playwrights are quite conservative about the presentation of their plays – even those that have enjoyed scores, or even hundreds, of productions. It's an individual choice, to be sure. In the case of this play (and this playwright, perhaps), it seems to me that being flexible has proved rewarding.
I think the gender change can wake us up a bit more to a play that discusses issues that haven't been on the front burner (in quite this way at least) for decades. It reminds us that more and more women are finding their way into our society's biggest socio-political discussions, and that they have already proved themselves every bit as competent as their male counterparts.
Of course, the issues of A Walk in the Woods are very much on the front burner in other parts of the world. I recently saw a poster from a production of the play in Mumbai, for example. And given that it's nuclear war the play discusses, no matter where the question is front and center, all of us – women and men – inevitably must feel involved." 
Team
The rest of the crew for this production are Joe Burke, Co-Projection and Lighting Designer, Yeaji Kim, Co-Projection and Set Designer, Tim Bickel, Sound Designer, and Amy Chmielewski, Costume Designer. 
This show's minimalist staging is in keeping with Spartan's philosophy…perfect. 
Ticket are $25 and maybe purchased online. Discounts include $10 for industry and students (with I.D.). Performances through Oct. 23.
NOTE: The 2015 movie, starring Robert Redford and Nick Nolte, with the same name as this play is NOT the same story.
Photos courtesy of Spartan Theatre Company
Related:
Crime Stats By District
Columnists