American Writers Museum scheduled to have May opening in Chicago
When a handful of Washington, D.C., and east coast people began a quest to determine where a to-be-created American Writers Museum (AWM) should be located, probably not many put odds on Chicago…but that is exactly where it will open on May 16th in 180 N. Michigan Ave. on the second floor. 
During their search, the AWM group determined that Chicago is a national and international destination with a vibrant cultural and philanthropic community and a rich literary history, explained Carey Cranston, AWM inaugural president, at a recent press conference. Thus, they arranged to meet with Mayor Rahm Emanuel about two years ago. 
Without a paid staff but with Amaze Design, a Boston-based firm that has created many such venues, and a dedicated group of volunteers, the team worked diligently to bring this concept to a reality. The 11,000 square feet of space honoring the written and spoken word haven is expected to have 120,000 visitors annually and generate a $1.7 million net revenue by 2021.
As Emanuel put it, it will add to the breadth of the more than 60 other museums and cultural institutions in the city. And, it will give residents and visitors a space for inspiration, learning and doing. 
Ironically the opening day will be one day before the 117th publishing anniversary of L. Frank Baum's Wonderful Wizard of Oz, which occurred in Chicago. Judging from a sneak peek at some renderings and videos depicting the seven gallery spaces and their content, word loving visitors may feel as though they are walking down the yellow brick road to visit the wizard. 
The five permanent and two changing galleries will be Writers Hall, A Nation of Writers, Word Waterfall, Readers Hall, The Mind of a Writer, Chicago and Children's Literature. In each there will be exhibits that match AWM's mission of engaging the public in "celebrating American writers and exploring their influence on our history, our identity, our culture, and our daily lives." 
Interactive exhibits centered on the written and spoken words and those who strung them together will provide visitors opportunities for Oz-like experiences. For example, as an author talks about something in a video the visitor has chosen, he may be paused while the visitor goes to a reference area to look up a detail about the subject. The visitor can go back and have the author continue, explained M. Hill Hammock, AWM Board Co-Chairman. 
The Mind of a Writer Gallery is designed to de-mystify famed writers' works and methodologies and invite visitor creativity with games and other immersive offerings.
The innovative and dynamic state-of-the-art exhibitions will provide visitors not just the opportunity to read but also write, as they are immersed in the culture of America as recorded by writers from the past and present. 
For example, they may participate in writing a collective "story." Staff will begin the story with a sentence and visitors will leave strings of words, forming a story. 
The Reader's Hall, on the other hand, is being designed as a space for workshops, groups and student programming. It will host films, talks and readings as well as author signings.
Designed for people of all ages, the museum will have a gallery for children. There, young readers and writers will be able to enter a world just for them…Oz at its best. To help in engaging young writers, AWM plans, in the future, to have a competition.
With such great writers as Nelson Algren, Carl Sandburg, Edgar Rice Burroughs, Saul Bellows, Gwendolyn Brooks and Ernest Hemingway, Chicago and the West Town Community will be well represented in this homage to American writers. 
Adding to their depth as a research site, AWM is collaborating with 58 authors' homes and museums around the U.S.
After May 16, the American Writers Museum will be open from Tuesday through Sunday, 10 a.m. to 4 p.m., and on Thursday, 10 a.m. to 8 p.m. Tickets will be $12 for adults and $8 for kids.
Background
Founded in 2010 by Malcolm E. O'Hagan, AWM is the first museum dedicated to celebrating all American writers versus those focused on one or a group of writers or genres.
The organization is in their final push to reach their $10 million goal. A $500,000 challenge grant from an anonymous donor can take them down to a final half million by opening day.
To date they have raised $8.5 million. More than 60 individuals, corporations and foundations have become AWM Founding Patrons with gifts of $25,000 or more. Donations, big and small, may be made on line.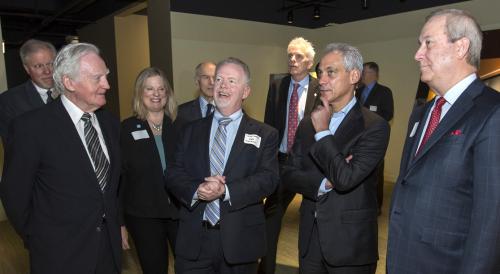 Mayor Emanuel is taken on a tour after the press conference by members of the AWM Board of Directors. L to R are: Andrew Anway, Amaze Design Exhibit Designer (back left), Malcolm E. O'Hagan, AWM Founder; Leigh Conant; Werner Hein, AWM Vice Chairman and General Counsel; Carey Cranston; Mark Kelly, Chicago's Commissioner of the Department of Cultural Affairs and Special Events; Rahm Emanuel; M. Hill Hammock, AWM Board Co-Chairman.
Related:
Crime Stats By District
Columnists