"Apostle of Peace" attracts the community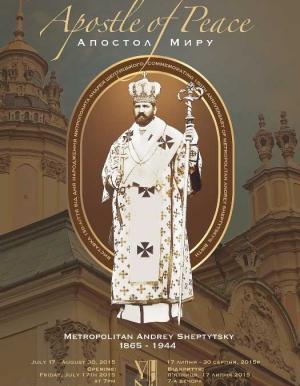 The National Ukrainian Museum was stuffed to the brim with people Friday, July 17, for the opening of "Apostle of Peace". People of all ages waited in anticipation to celebrate the 150th birthday of Metropolitan (Archbishop) Andrei Sheptytsky.
Born to Polish nobility, Sheptytsky made the decision to pursue a life in the church contrary to his father's wishes. He was a man who hid a rabbi behind the shelves of his library, a man who saved the lives of hundreds of people persecuted by the Nazis. 
The keynote speaker, Reverend Doctor Ivan Kaszczak, author of Metropolitan Andrei Sheptytsky and the Establishment of the Ukrainian Catholic Church in the United States, told the story of Sheptytsky's humanitarian philosophy. A philosophy that states, regardless of where you are in life or what your beliefs are, all people are part of the kingdom of god.
After listening to Kaszscak, parents, priests and progeny floated through the exhibit and admired the various artifacts and portraits of Sheptytsky along with information of how he became the man he was. Additionally, at the opening they ran a rare sound clip and a silent film clip of Sheptytsky.
Metropolitan of the the Ukrainian Greek Catholic Church in Ukraine from 1901 until his death in 1944, Sheptytsky is considered the most influential figure in the entire history of the Ukrainian Church in the twentieth century. It is expected that he will be canonized into sainthood.
The exhibit honors his contributions to the Roman Catholic and Ukrainian Greek Catholic Churches, his philanthropic accomplishments for youth and the arts in Ukraine as well as his humanitarian deeds sheltering those sought out by Nazi persecutors.  
Continuing through August 30, the exhibit is open during the museum's normal hours of operation; 11 a.m. to 4 p.m., Thurs. through Sun. The museum is located in the heart of the Ukrainian Village, 2248 W Superior St. Parking is available beside the Museum and across the street in the church parking lot.  
Related:
Crime Stats By District
Columnists