The Eggsquisite and the Sacred merge: Ukrainian National Museum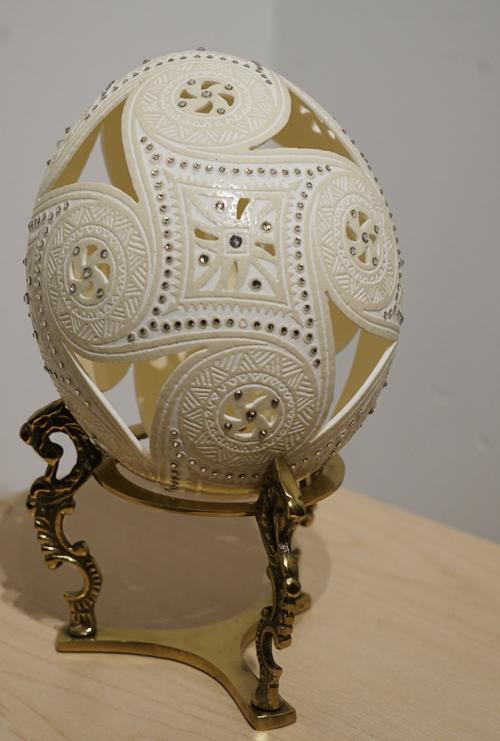 Cutout, dotted with rhinestones, covered with unique patterns representing Ukrainian towns or views into Ukrainian peasant life, eggs are all "eggsquisite" in the Easter Wonder exhibition at the Ukrainian National Museum (UNM), 2249 W. Superior St., through April 28. Hours: Thursday through Sunday from 11 a.m. to 4 p.m. 
The exhibition is a mix of 300 decorated eggs (pysanky) from Oleh Kurylo's private collection and pieces from UNM's sacred artifacts collection donated by Dr. George Podlusky. Priest vestments date from the 17th through 19th centuries.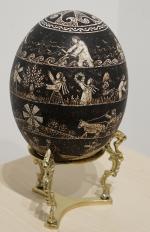 White eggs turned into jewels evoke gasps from observers. The intricacies of the cuts, carvings and embellishments are breathtaking. It is difficult to divert your attention to other items. But, when you do, there is even more wonderment. 
Traditionally each Ukrainian village has their own design (motif). It is embroidered, painted and used generously on many different surfaces. In this show it is on eggs and rushnyky. 
On the eggs, the intricate motifs can be of many colors. Sometimes they appear as a repeat pattern over the entire egg or with a larger motif. 
Another type of design is monochromatic. Folk art style of storytelling encircles the egg or there are "portraits". 
"This is all so cultural that your faith, Christianity, is woven into it. But it all goes back to Pagan times," says Anna Chychula, former UNM Executive Director who continues to teach pysanky classes at the Museum. 
She went on to explain that the egg was a symbol of darkness to light, the new birth, hope of coming through a horrible winter. Spring comes and it is a wonderful miracle. With Christianity came into being and the resurrection was reported and celebrated the pagan traditions appeared to "marry" into the new celebrations.
Very important in the Ukrainian culture is the rushnyk. "It is a ritual cloth with embroidery that reflects where it came from in Ukraine," explains Anna Chychula, former UNM Executive Director who continues to teach pysanky classes at the Museum. They are made from linen that was grown, harvested, spun and woven into cloth locally. 
"A piece of linen (not the same piece but symbolically) follows you your whole life. When you are born, christened, married and buried, there is a rushnyk." Those on display in the exhibition are from Oksana Ambroz-Trychta's private collection. 
Among the other treasures in the exhibit are vestments from 18th century monasteries.
"For the first time, we are displaying a flag from Chicago's first Ukrainian church, St. Nicholas Cathedral, 835 N Oakley Blvd., built in 1913 to 1915," said Maria Klimchak, UNM's Curator. "It shows the same image of St. Nicholas as is on the front of the church."
This exhibit is a must see for the joy of the eggs and the connection to the Ukrainian tradition begun in 988.
Related:
Crime Stats By District
Columnists