Modern Polish Posters not to be missed at Polish Museum of America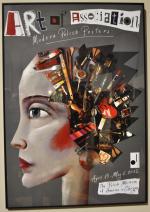 UPDATE:
Exhibition extended thru at least Sun., May 27!

An exhibition of world-renowned, original Polish posters by faculty and students from the Szczecin Academy of Arts in Poland is a not to be missed experience at the Polish Museum of America (PMA), 984 N. Milwaukee Ave. The last day is May 6.
Curated by Monika Nowak, the show features 70 intriguing, colorful works by 22 artists and provides a rare opportunity to see previously unavailable images that will startle, amaze and stimulate both the mind and emotions. This assemblage of  work is made possible because of Nowak's education in Kracow and her continued connections with the people, organizations and institutions there.
The show includes work by Prof. Lex Drewinski, who lives in Potsdam near Berlin. He is an icon of international design, having won over 100 awards. Other work is from Prof. Leszek Żebrowski, associated with notable workshop experiments, who belongs to the elite of Polish poster
designers, and Prof. Grzegorz Marszałek. Marszalek is considered one of the most talented students of the legendary Waldemar Swierzy of the Polish School of Posters. He is a great portraitist, satirist and has collaborated for many years with Playboy magazine.
Breaking the traditional mold of higher education, the Szczecin Academy of Arts combines music education and visual arts. Established in collaboration of three institutes of higher education in Szczecin, 25,000 residents of the town signed a petition
to establish the Academy. With that support, the Parliament had no other choice but to accredit the school. It opened on Sept. 1, 2010.
Museum hours are 11 a.m. to 4 p.m. daily except closed on Thursdays. Museum admission is $7 adults, $6 for students and seniors and $5 for members. Parking is free.
Related:
Crime Stats By District
Columnists