A must see for fashionestas and antique fashion devotees -- Fashions from the Collection of Tetiana Reynarowych -- Ukrainian National Museum
Tetiana Reynarowych had passion for all things Ukrainian and believed that it was important to honor and perpetuate knowledge of and use of traditional regional designs. At the same time she had an interest in and passion for American fashion.
The Antique Trunk Show Fashions from the Collection of Tetiana Reynarowych in the Ukrainian National Museum, 2249 West Superior St., reflects both and will be on display until Dec. 31. 
"She was amazing," said Anna Chychula, the Museum's Administrator. "When she did something, she did it to perfection." Chychula was a student of Reynarowych in the mid to late '80s when embroidery was popular. "Reynarowych did it as something new and fresh not like a craft. 
"Having attended the Art Institute of Chicago, she was a task master in teaching traditional Ukrainian thread colors and stitches but made it fun and challenging for her students," Chychula explained, "She treated elements of design with incredible respect. Though we were to use the traditional stitches and regional colors, she encouraged us to change the color of the background or place the design elements in a way that reflected our own personality. 
"As we designed, we were all supportive of each others work, falling in love with everyone's design. We had exhibits and fashion shows that she set up. That made us want to do even more. Not everything was about only embroidery. There was a wedding show that also included wedding breads that were magnificent. Like the embroidery, the designs were unique to each region."
Born in the Ukraine in October 1936, Reynarowych was in DP (Displaced Persons) camps as a child. It was when she was in Regensburg, Germany, in the American zone, that she became friends with Marta Kozbur's mother (Mrs. Popil). That relationship lasted until her unexpected sudden death in March 2010. 
Marta Kozbur curated the Antique Trunk Show Fashions. "I probably knew Tetiana before I was born. She and her family and my family lived in the Ukrainian Village and then in River Forest," explained Kozbur. 
"Her true passion was embroidery. She embroidered her own evening gowns. Even her father embroidered. They had Ukrainian dinner dances in the 50s and 60s and all the ladies wore their wyshyvani vechernytsi (embroidered evening dresses). But she also developed a passion for collecting. 
"She and I talked about her vast collections of fashions and other things such as teacups. When she would have a dinner in her home, everyone would get a different patterned cup and saucer. At the end of the evening, each person was given their cup and saucer to take home. 
"Several years before her death, we discussed where she should donate her collections. But, she did not want to do that until she had an exhibition.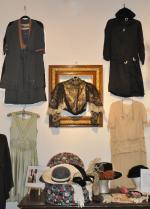 "I now have the collections, stored in my mother's attic down the street from where Tetiana lived and I live. This is the exhibition Tetiana wanted to have. 
"Of the pieces display here, the oldest are from 1878 to 1890. There are Edwardian pieces from the early 1900s, three wedding gowns are from the 1940s and an apricot wedding gown from 1926. There is a cabinet with some of her tea cups and other items for sale as well." 
No doubt that Tetiana Reynarowych would be pleased that she is having her exhibition thanks to the efforts of Kozbur and the Ukrianian National Museum. It can be a nice quiet experience between the frantic events between now and the end of the year.
The Museum is open from on Thursday through Sunday, 11 a.m. to 4 p.m. Admission for adults is $5.00 and children under 12 are free. Free Parking is available beside the Museum. For driving instructions, visit the Museum's website.
For additional information, please call 312.421.8020 or e-mail.
Related:
Crime Stats By District
Columnists