Natalya Bendus-Petrovska exhibition: Ukrainian children's book illustrator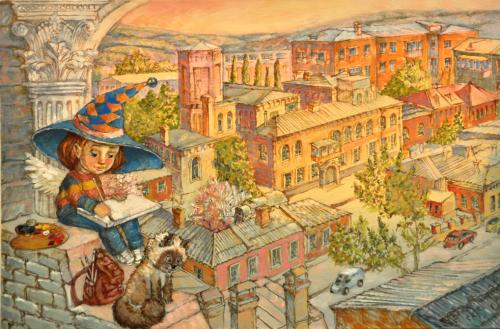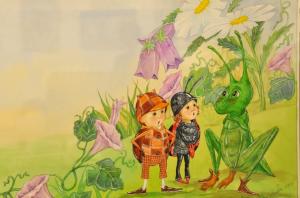 "…playful fireflies, dragons, innocent children and other spirited beings whose adventure takes us away from the mundane into a world of meadows, skies – the natural and physical worlds of the universe," is how Lydia Tkaczuk, President, Ukrainian National Museum, described the exhibit of Natalya Bendus-Petrovska's children's book illustrations that opened Children's Month at the Museum, 2249 W. Superior. 
"She fantasizes and sketches the appropriate scene to match the written word, not just to entertain but to educate children," said Tkaczuk. 
Bendus-Petrovska's work is in 21 published books and in private collections in Ukraine, Russia, Germany, Greece and the USA.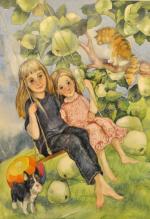 "Natalya paints for children because in them she remembers her happy youth. She sees splendor in children...their carelessness, unprecedented laughter, their boundless imagination, directness, sincerity and cheerfulness. And so Natalya's characters are similar to herself," explains Tkaczuk.
"This is not surprising, Natalya says, because by and large, the artist always draws himself. So, her inner world is also incredibly beautiful. She attributes the inner joy, creativity and goodness in her, from the love her parents instilled in her as she and her sister were growing up.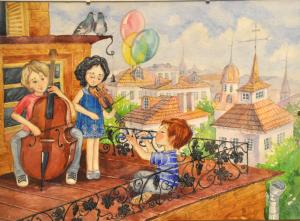 "Natalya's career started as a very active and fidgety four-year-old, who could, however, sit for hours and draw. As a ten year old, interviewed by a journalist, because of her gifted qualities, she explained that when she grows up she wants to make postcards and books. 
"In 1994 Natalya completed the Kharkiv Art College, Department of Art Pedagogy and in 2000 she graduated from the Institute of Industrial Arts in Kharkiv Department of Book and Easel. 
"She still lives in Kharkiv with her husband and two daughters. She credits her talent to her mother and grandmother who also were artists."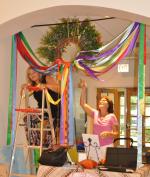 As Bendus-Petrovska says, "The richest man in the world is one whose joy is very cheap. The happiest one is the one who is able to share his happiness." She must be a very happy person.
The exhibit will continue through the month. Items on exhibit are for sale.
Another children's show is opening this weekend. Maria Klemchak, the Museum's Curator and Lydia Tkaczuk were captured in the picture to the right as they decorate for the event.
Related:
Crime Stats By District
Columnists