Ola Rondiak's VINOK more than art exhibit: Ukrainian determination despite atrocities - Part I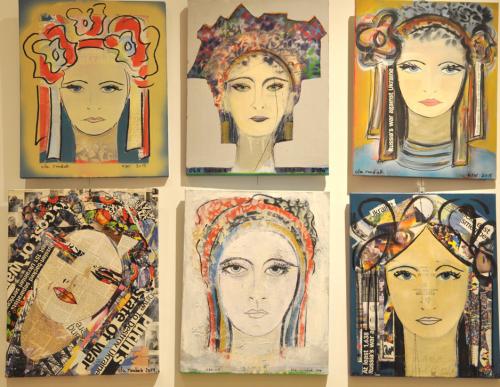 The VINOK exhibition at the Ukrainian National Museum is more than an exhibition of art work. American born and educated, Ukraine resident Ola Rondiak takes you on a dance that channels the vinok history, Ukrainian independence and her 1940-50s Russian work-camp imprisoned grandmother. 
Symbolizing hopes of love and harmony, the vinok is placed atop the head of a young woman in Rondiak's portraits. Some pieces also reflect Ukraine's long time efforts to be an independent country.
Her grandmother's embroideries show how the focus on religion, rebellion and community effort kept a 44-year-old woman surviving atrocities during eight years of imprisonment. 
The pieces are a feast for the eyes that can tug at your heartstrings. They include homages to Rondiak's family as well as Ukraine's continual battle for independence. 
This exhibition is an important learning experience for everyone and is open through Dec. 31 in the Ukrainian National Museum of Chicago, 2249 W. Superior St. They may be reached by phone at 312-421-8020 or by email. While their hours are 11 a.m. to 4 p.m., Thursday through Sunday, call if you want to see the exhibit but cannot make those hours. They will be closed on New Year's Day.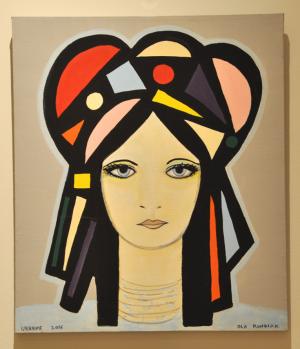 The Exhibition
Rondiak's portraits are in mixed media. Each features a women's head adorned by a unique vinok. In other multi-dimensional pieces, she honors her grandparents and family. 
In her portrait work, Rondiak ties together historic symbols with contemporary battles for freedom of body and soul. This exhibition is the first in which she incorporates family memorabilia along with her creations. 
The vinok is a traditional Ukrainian flower and grass crown with ribbons that is worn by young unmarried women in hopes of attracting love and harmony. It is also used in the marriage ceremony. Each flower and ribbon color in the circle is considered a talisman
As explained by the Museum's Curator Maria Klimchak, "The vinok is part of a couple's life. Over the years the vinok dries and becomes fragile. When the husband dies, it is put in his coffin, while the wife is buried in her wedding gown. That symbolizes their coming together in heaven."   
The symbolism of the vinok has grown over time to include struggle, strength, determination and beauty. Those characteristics represent the determination of the Ukrainians against the Russians during WWII and more currently in the political situation of today. 
"I have 'woven' my grandmother into this exhibition because, though I never met her, she was my biggest inspiration," says Rondiak. 
"She lived in a Mordovia work camp for about eight years; lost one daughter in the camp; was never reunited with her husband or other two children; created art work illegally and secretly at night; and eventually got her work smuggled out of Russian control and sent to family in America, even though she had no address for us." 
The pieces
Several of Rondiak's displayed pieces are collages. Words, of various sizes, such  as "Freedom," "EuroMaidan" and "corruption" are strategically placed on some. On others, newspaper clippings and personal letters about the Ukrainian situations or experiences are used to define an area's shape. 
Background: The Euromaidan political movement began in November 2013 when then President Viktor Yanukovych refused to sign an agreement with the European Union. Euromaidan's purpose was closer ties with the European Union and the ousting of Yanukovych. That became a reality in the February 2014 revolution. However on Mar. 18, 2014, Russia annexed Crimea.
The many designs on the vinoks hearken back to Rondiak's work in fashion design.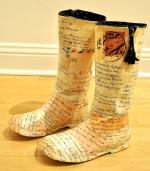 While a pair of boots in the exhibit are not intended for walking, they are intended to honor Rondiak's mother and grandmother. They are coated with copies of the letters her grandmother, after release from prison, sent her daughter Maria (Oksana Maria) Michniak Terpylak. 
"I was nine when I heard my mother getting the call that her mother had died. The weight of that became part of who I am," Rondiak says. 
One piece Rondiak stitched as a replica of a piece her grandmother stitched. The original was pictured in a June 15, 1980, story in the Chicago Tribune. That story eventually led to a Ukrainian Village restaurateur of the time recognizing the family to whom they should go. It resulted in many of the pieces getting to Rondiak's mother but not all. The praying women was one. 
Marta (Paraskevia Marta) Michniak, Rondiak's grandmother, depicted herself as the second woman from the right. "Hers was stitched by hand but I stitched mine by machine," she said looking somewhat guilty then laughed. 
She created a man's hat in honor of her grandfather Roman Michniak, who always wore one, and was able to get his and Marta's daughter, Maria (Oksana Maria) Michniak to America. 
The artist
Though born and educated in Ohio along with a brother and sister, Rondiak's connection to national Ukrainian pride has always been a part of her life. Ola lived in two worlds, one American and the other Ukrainian. "Our whole life was dedicated to Ukraine. Saturdays were Ukrainian School, summers were Ukrainian camp. 
"It was and is important to Ukrainians to keep the Ukrainian language alive because otherwise it will be gone forever. As it is, most eastern Ukrainians do not know about Ukrainian history," Ola explained. 
After working on her Bachelor's degree for two years in Ohio, she realized that she was not sure what she wanted to do so she moved to the Ukrainian Village in New York to live with her other grandmother. There she completed studying psychology and education at Hunter College. 
Following work as a Brooklyn social worker, she went back to school to obtain her Master's in Clinical Psychology and Community Counseling. She transitioned back into the working world as a psychotherapist in Philadelphia at a mental health clinic. She also married Petro, who is also a first generation American of Ukrainian born parents. 
Shortly thereafter, he was offered a job by an American friend who was opening a business in Ukraine. They lived there for two years then returned to America. It was at that point that Ola's artwork blossomed along with their family. They had three children in three years, as her husband continued to work for his friend who also had a branch of his company in Delaware. Petro then returned to Kyiv (Kiev). Ola moved back in 2002.
Their son, who graduated this year from the International High School in Kyiv, is working in New York as a music producer, living in a small family condo. "My youngest daughter, 15, is more of an academic and is hoping to attend an Ivy League school. My oldest daughter, 16, is singing and dancing in videos while finishing school. 
"Perhaps she will be in videos her brother will produce," she says with a laugh.
While working on this exhibit, Ola, now 50, realized that she is the same age her grandmother was when she was embroidering in the Mordovia work camp, using a fish bone for a needle. 
Part II of the story will focus on the memorabilia and more of the family's story.
Related:
Crime Stats By District
Columnists