Teacher Fellowship Program Student Exhibition opens at Intuit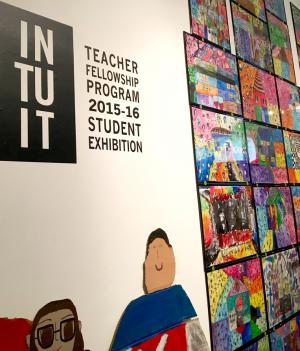 The Teacher Fellowship Program Student Exhibition at Intuit: The Center for Intuitive and Outsider Art opens Sat., June 4, with a dance performance by Franklin Fine Arts School elementary students and a hands-on activity in partnership with CodeCreate during the free opening reception from 1-4 p.m at 756 N Milwaukee Ave. 
The exhibition showcases participants in the 2015-2016 Teacher Fellowship Program. Inspired by self-taught and outsider art, students transform found and non-traditional materials into art pieces that reflect their personal visions.  
The Teacher Fellowship Program is Intuit's award-winning professional development program for Chicago Public Schools teachers, reaching more than 600 students across Chicago annually. The core value of the program is enabling teachers to give their students an opportunity to translate their personal vision to art-making, using non-traditional materials in a non-judgmental environment. 
Each person has creative potential. By participating in the program, teachers collaborate with colleagues on a lesson plan to help their students integrate the characteristics of outsider art into cross-disciplinary arts learning.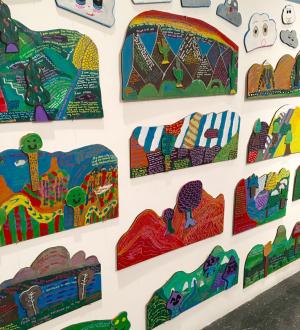 Intuit's Teacher Fellowship Program is sponsored in part by generous grants from the Crown Family Philanthropies, the Polk Bros Foundation and the Terra Foundation for American Art. 
The 24 teachers whose students will be represented in the exhibition are from 13 participating Chicago Public Schools, including: Alexander Graham Bell School, Chicago Vocational Career Academy, John W. Garvy Elementary, Gillespie Tech Elementary, Morton School of Excellence, Nettelhorst Elementary School, Ogden International School, Jose Clemente Orozco Academy, Vaughn High School, STEM Magnet Academy, Thomas J. Waters Elementary, Mary Lyon Elementary and Franklin Fine Arts School. 
Established in 1991, Intuit is the only nonprofit organization in the United States dedicated solely to presenting self-taught and outsider art-with world class exhibitions. It is a treasure trove of resources for scholars and students with its collection of more than 1,100 works of art.
Photo source: Intuit: The Center for Intuitive and Outsider Art
Related:
Crime Stats By District
Columnists