Traditions of "hot" Ukrainian fashion of the late 1900s
Regardless of the celebration, it was "hot" to have embroidered garments among contemporary Ukrainians in the mid 1970s to the mid 1990s in Chicago. The A Century of Embroidered Fashion exhibit at the Ukrainian National Museum, 2249 W. Superior St., includes many garments and photos of the times. 
On exhibit through Nov. 29, it is easy to see how some of the items, slightly altered, would make a fashion statement even today. More proof that fashions recycle.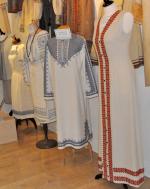 Embroidered garments were not just the fashion for women. Men's outfits were also adorned by stitched patterns. An entire wedding party would have matching designs for both men and women. Even choral groups would wear robes with matching patterns, though often they were bands of manufactured "embroidery" patterns.
Worn on many different occasions, men's ties were all a mass of carefully evenly laid stitches on top of silk fabric. 
Using the cross stitch, designs were applied to even-weave fabric and regular fabric. If the material was not an even-weave, an even-weave fabric (waste canvas) was put on top the material. The design was stitched and the waste canvas removed with great care. 
As the Museum's Anna Chychula explains, "This tradition was only done in this country during this time period."  Garments in the exhibit are from the permanent collection as well as on loan from members of the Ukrainian community. 
Chychula was part of that period and the exhibit includes photos of her family in their finest fashions at a variety of events from weddings to cotillions.
One example is a garment her mother originally wore as a dress. Later she had it made into a two piece outfit that could be worn separately or as an ensemble. 
Coats too were adorned by stitches. If worn today, many would be admired as chic choices. 
Whether you are or have been an avid needleworker, this exhibit should be on your must see list. 
The exhibit is sponsored by the Selfreliance Foundation of Selfreliance Ukrainian American Federal Credit Union. 
Museum hours are: 11 a.m. to 4 p.m. Thursday thru Sunday.
For More Information call 312.421.8020 or email. Check their website too.
Related:
Crime Stats By District
Columnists