Ukrainian Folk Tale Exhibit: Don't miss the experience
Fairy tales in a unique, fun charming exhibit for kids of all ages will be closing October 2 at the Ukrainian National Museum, 2249 West Superior St., it is a must see. They are open from 10 a.m. to 4 p.m. Thursday through Sunday. 
Goats, lobsters, a mitten home, a flapping winged swan, dancing mice and people too, to name just a few who move, or not, are in 11 dioramas illustrating Ukrainian children's folk tales. Each also has a panel showing the printed Ukrainian tale. 
Many are dressed in Ukrainian outfits. The detail on each little creature and person is amazing. Hand embroidered outfits have been made to size with new stitching or from heritage pieces. 
Ethics, ideals and lifelong lessons are the underlying messages of these stories, aside from the shear charm that fascinates all ages. 
To educate the audience beyond the fictional tales is a huge ethnographic map of Ukraine which has a costumed doll, a decorated egg and a stitched swatch of fabric showing each region's designs. 
This cultural treasure was created and installed by Luba and Andrij Chornodolsky, from Baltimore. "I had this vision of doing this for years," said Luba, a retired nurse. She started some thirty years ago by telling the tale of The Mitten (Rukavychka), the Ukrainian story of a boy and his lost mitten that became refuge for a menagerie of animals in the snowy woods. 
"I made this giant mitten and would tell the story to all the neighbors' children…and they loved it! 
On a trip to Ukraine, she saw pictures of all these animals on the walls dressed in Ukrainian clothing. After Chernobyl (the catastrophic nuclear accident that occurred on April 26, 1986 in), she went to the Ukraine through the University of Pittsburgh to do a study on the affects of the disaster, pathologically on the children. While there, she saw more pictures of the dressed up animals and began collecting the Ukrainian folk tales. 
She was particularly fascinated by how the writers and illustrators wove Ukrainian cultural heritage into the tales. 
"The magic fingers of Lida Dychdala sewing costumes for my animal characters and dolls is what took my passion to the next level," explained Luba. 
Henny Penny was the second story to come to life and then her husband became part of the team. He painted the backgrounds. 
Andrij, a mortgage licensing law instructor, finds these endeavors to be enjoyable too. He not only helps in their creation but also in carting them around the country. 
Admission for adults is $5 and children under 12 are free. The other children's illustrations are still up too! 
They can be reached at 312.421.8020 or via email.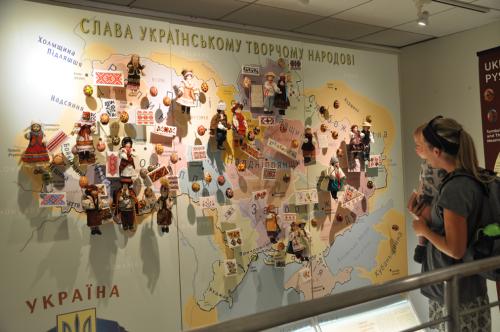 Related:
Crime Stats By District
Columnists