Warsaw Uprising: We won says "Behold a day of Blood and Honor" film maker
"We won," said film maker Paul Grajnert about the Warsaw Uprising against German occupation forces in Poland, as the 75th Anniversary was being celebrated in the Polish Museum of American (PMA), 984 N. Milwaukee Ave. 
On the screen in PMA's massive Sabina P. Logisz Great Hall, several survivors shared memories of their World War II (WW II) childhood in excerpts from Behold a day of Blood and Honor, a product that includes interviews Grajnert and PMA's historian Jan Lorys conducted. 
"I am so glad we did those interviews five years ago. Several of these people have passed away or have memory problems now," said Lorys. 
The story Behold a day of Blood and Honor tells is not one that Americans, Brits, French, Soviets and Chinese (members of WW II Allies) tell of the war that ended in 1945. It is the story of the people around whom the war began in 1939 and who, on Aug. 1, 1944, were willing to die for their freedom. Hundreds of thousands did.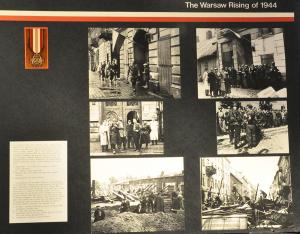 By Aug. 4, their 50,000 Home Army (AK) corps gained control of Warsaw from the sparse German troops. 
However, German reinforcements retaliated, bombarding the Poles by land and air for 63 days. 
Contrary to assurances of support by the Soviet Union, the Soviets refused to allow the Allies to use Soviet air bases for airlifting supplies to the weakening Poles. 
Without Allied support the AK split into small disconnected, ineffective units. By the time the Poles surrendered, Warsaw was destroyed, 200,000 civilians and more than 10,000 fighters were dead*. 
Grajnert, however, does not view those realities as defeat. 
"The goal of the Soviets and the Nazis was to dismantle society," says Grajnet. 
"The Uprising was a show of solidarity. It showed that the values of the Poles was not destroyed. Despite the most horrific systematic crimes against humanity…those values and that society survived. 
"For me, it's a victory of democratic values over totalitarianism and extremism…We Won!" 
The film
Five years ago the Uprising exhibition was displayed for the first time. This year, in September, the 88-minute film will be part of the Bside War Festival in Italy. 
Learn more about Polish History
The exhibit will be up at Polish Museum of America through Sept. 5
Grajnert suggests that anyone interested in learning more about WW II and the history of Poland read Timothy D. Snyder's books.
*Source: Encyclopedia Britannica
**Photo source: Dan Pogorzelski
Related:
Crime Stats By District
Columnists