Before another election: Moreno faces increasing controversy over actions and texts
Updated 2/8/2019
The actions and texts of Alderman Proco "Joe" Moreno, 1st Ward, have once again put him negatively in the headlines across the City as a re-election race is underway.
"Miscommunication" is the explanation Moreno is giving about the Jan. 4 police report he made stating that his leased 2016 Audi A6 sedan was missing. 
When the police stopped the car, on Feb. 3, because the headlights were off, Liliya Hrabar, 35, was at the wheel. She was charged with a misdemeanor trespass to a motor vehicle and put in jail overnight. 
Monday night prior to the start of a multi neighborhood candidate event, Moreno told WGN TV's Meghan Dwyer that, "We were having a miscommunication about when she needed to return it [the car]," said Moreno. He explained that they dated on and off, that she was a single mom and that he was trying to help her. 
Hrabar, an insurance agent, told the Chicago Tribune on Tuesday that she met Moreno last September and that she dates him on and off. She said that she was shocked when she was pulled over and told that she was driving a stolen car. 
According to her, Moreno gave her the car on Jan. 3, a day before he reported it stolen. His re-election campaign activities were keeping him busy so she has not seen him, she said. He said that he was having trouble reaching her.
Since January, a series of text messages, as in 2014, shed light on the realities of Moreno's communications. The current texts, showing communications throughout January, were given to WGN9 by Hrabar. (To enlarge image, click on the image)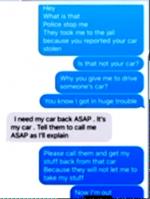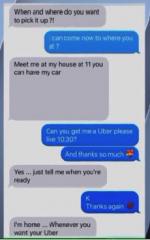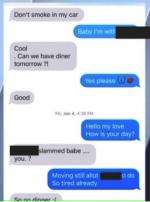 Despite the texts showing that they had been in contact through January, which Moreno denied, Hrabar supports Moreno, "Joe doesn't do anything bad to me. We date on and off. … I will never say a bad word about Joe." 
Charges against Hrabar have been dropped by the state's attorney but she said that she is consulting with an attorney and talking to Moreno. 
The Chicago Police Department has opened an investigation into the possibility that Moreno filed a false police report, according to CBS.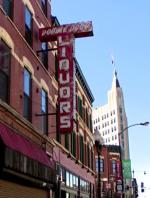 In the 2014-15 election, an opponent, Ronda Locke, filed a formal complaint with then Legislative Inspector General (LIG) Faisal Kahn. That was followed by a lawsuit by Locke and another opponent, Anne Shaw. It was against the City of Chicago Board of Election Commissioners alleging mistakes and fraud in the 1st Ward election. 
In 2017, Moreno threatened the building owner, Brian Strauss, with detrimental zoning change. Strauss was evicting the famous Double Door, 1572 N. Milwaukee Ave., because the Double Door had not signed a lease renewal after six months. 
"I am not surprised that Moreno was in the Solis tapes," says Shaw. "Once again it is a pattern of him disrespecting the law. Last June he was accused of impersonating a police officer to a young woman in Lakeview over a parking spot and now this police investigation of him making a false police report about his car being stolen when he gave the vehicle to a single mom he dated. 
"His actions show that he doesn't respect the law, he abuses it and he also appears misogynistic," she concluded. 
Since his appointment to the 1st Ward Aldermanic seat in 2010, Moreno has been questioned about ties of donations to developers as well as bar owners and billboard companies. 
In fact he and all candidates were questioned about where those donation dollars came from and where they went in a 2015 Candidate forum in Wicker Park. Opponent Ronda Locke, who had previously worked in his office, challenged him. 
His response included that he thought it was hypocritical for people to ask him for money and not care what the source was. He pointed out that he had given her $3,500 to do work in her park [Commercial Park] "over the years" and she never asked if the money came from developers. 
Locke's response was that it was "less than 1% of the money this alderman has raised and that was for four Circus in the Park ads." She went on to point out his accepting $16,000 related to a bar who got a 4 a.m. license, which was a controversial issue for those around the Division St. location. 
Moreno has a process in reviewing development projects that includes engaging seven different community groups throughout his ward.  As he says, "90 plus percent of the time, I go with what the community recommends." 
That process has not prevented speculation about contributions linked to development projects. Mina Bloom in Block Club Chicago links current contributions to Moreno by developers. 
In the recordings from the FBI wire worn by 25th Ward Alderman Daniel Solis, Moreno was mentioned as referring business to Victor Reyes.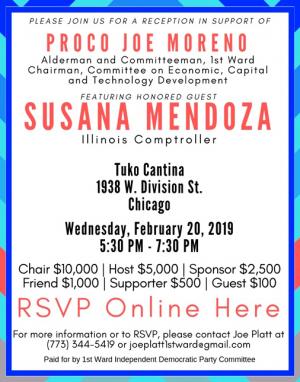 The latest development followed Wednesday emails from "Alderman Joe Moreno" with the subject line "Fundraiser for Joe Moreno." In the email it says, "…Please join me and the 1st Ward Democrats and our special guest, Susana Mendoza, as we work to keep solid representation for the 1st Ward. Help bring us a win on February 26." 
A poster at the bottom says that she is the honored guest. 
On a Wednesday morning campaign trail with a message about transportation investments, Illinois Comptroller Susana Mendoza, who is a mayoral candidate, found herself having to address the upcoming event, as reported on WGN9. 
First she said that she didn't remember Moreno, who she identified as her ex-boyfriend, hosting an event for her, then saying she isn't going because she will be in Springfield.
Dick Simpson, author, political science professor at University of Illinois at Chicago and former alderman, said to Our Urban Times that even with controversy swirling around an incumbent, they are generally re-elected. The exception is if they are indicted. 
Considering 14th Ward Alderman Ed Burke's situation, though he is charged but not indicted at this point, there may be an exception to that rule. 
Will all of these issues circling 1st Ward Alderman Moreno hinder his re-election bid? What do you think?
Related:
Crime Stats By District
Columnists