Ballot is official: 1st Ward Committeeperson slot is blank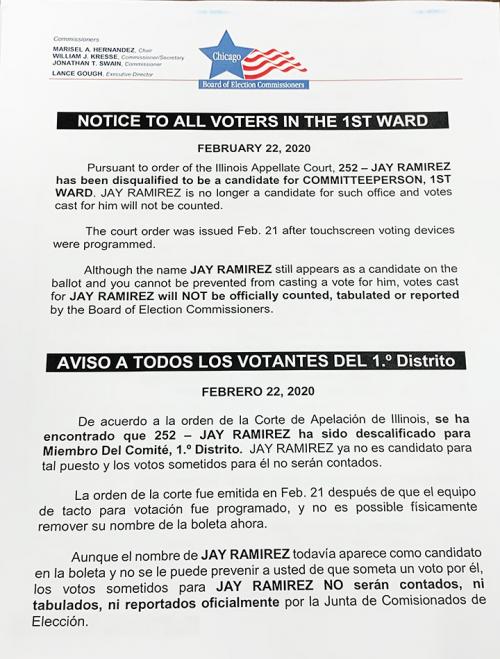 The third strike against Jay Ramirez being on the ballot for the 1st Ward Committeeperson position came late Friday. "For the foregoing reasons, we affirm the board's decision. Affirmed with instructions." ends the Appellate Courts' decision. 
"The voting devices are being reprogrammed right now and his name is being removed," said Jim Allen, Communications Director of the Chicago's Board of Election Commissioners, around 6 p.m. Friday. He went on to say that the paper ballots had not been printed as yet so his name will not appear on them. 
The early voting Loop Super Site opened at 191 N. Clark St. on Wednesday, but any votes cast for Ramirez will not be counted. Notices are posted there today (see above image). 
"We are filing in Federal Court next week to have the constitutional issue decided that the Circuit and Appellate courts refused to address," says Ramirez to this reporter today. That will be his fourth attempt to get on the ballot. He has been turned down by the Chicago Electoral Board, the Circuit Court and the Appellate Court.
The Appellate Court's Friday action means that no names will appear on the ballot for the volunteer position of the 1st Ward Committeeperson. Only the names of those registered as a "write-in" will be counted when ballots are counted. Only two candidates have registered. Daniel LaSpata and Lauren Young Weber.
At this point, for a person to be elected to the committeperson position, voters must write in the name of the registered write-in candidate of their choice. The registered person whose name is written on the greatest number of ballots equal to or greater than 1,032 will be the winner.
The 1,032 vote requirement is what Ramirez is saying is the wrong count. It is, however, the count that was used to declare that no one had enough qualified signatures to have their name printed on the ballot. Thus for someone to be elected by the voters, they will have to have a minimum of 1,032 write-in votes. 
Both 1st Ward Alderman Daniel La Spata and Lauren Young Weber are campaigning to be the victor. 
What happens if no one wins via votes cast?
The Democratic Party Executive Committee has not yet determined a process to make a selection if no one is elected via the ballot box. "We're waiting to see what happens on March 17 [Election Day]," says Jacob Kaplan, Executive Director, Cook County Democratic Party. 
Related:
Crime Stats By District
Columnists