Chicago's 13th Police District's fate hangs…or does it?: Trilogy of Police, Public Officials and People - Part One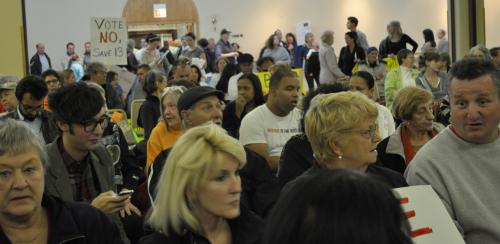 There were between four and five hundred people rallying in protest of closing the 13th Police District station Tuesday night that poured into the Ukrainian Cultural Center, 2247 W. Chicago, where Chicago Police Superintendent Garry McCarthy was the featured speaker at a Town Meeting.
McCarthy made it clear that he wanted to explain what he has done in his first five months as Chicago's top cop and to assure everyone that changes are to efficiently provide the best policing for everyone. Community residents, business owners, institution managers and organization members wanted him to understand that response times and relationships were their focus. They wanted him to know that they have worked hard to get crime statistics down and that they do not want the area, as Alderman Moreno put it, "punished for their success."
Five ward aldermen (Proco "Joe" Moreno, 1st; Scott Waguespack, 32nd; Robert Fioretti, 2nd; Walter Burnett, 27th; and Jason Ervin, 28th) wanted to hear details of the proposed closing and other department plans that they have not been privy to from the Mayor, his staff, the Superintendent and his staff.
Prefacing a discussion about proposed changes in the 13th District, McCarthy gave a description of the status of the department and his responsibilities and goals."I am responsible for public safety ...I agonize over every key decision... Nothing I do is easy...I take it personally when someone becomes a victim of a crime in the city because I am accountable. I hope you understand that the plan is to improve police services not to make it worse... This is where I come from and what I am thinking about."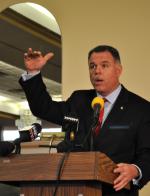 Since taking on the job McCarthy has be examining and evaluating what the department does and how as well as what the effects are. While the department's good work is close to reaching the reduced annual murder rate of 400 (not seen since the late 50s or early 60s), his goal is to eliminate that stat.
To that end, he first appointed Al Wysinger 1st Deputy Superintendent and began looking at department structure. He explained that delivering services as a modern-day efficient police organization, they must be proactive not reactive, reducing crime and responding to the public's service requests.
To support these goals, he has structurally eliminated two layers within the department, deputy and assistant superintendents and clearly defined the workings of six bureaus, speeding up information flow within the department. They are currently evaluating the commander and captain structure and have already realized a need for chain-of-command adjustments within the districts.
Focused on getting more feet on the street, 1,000 officers have been moved from special units where they did not respond to service requests back to the districts. His plan is to use CompStat, a program started in New York, that McCarthy is credited with starting in Newark, NJ,when he was their Police Chief. This program gives authority and accountability to the commanders.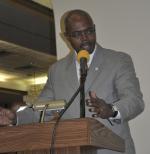 Closing Wood St. Station (13th District) along with two other stations, Belmont and Prairie, is part of the efficiency plan to get more officers on the street "into the hands of the commanders" and reduce costs. In determining the closings they analyzed numbers of officers, geography and crime by districts.
Looking at the stats relative to combining the 13th and 12th districts together, they determined that putting the five and a half square miles of the 12th, ranked sixteen, in size with the four point two of 13th, ranked twenty first would put the new combined district into eighth position among the new twenty-two districts. Current crime states show 12th in twenty-third position and 13th in twenty-second position.  As a combined district it would be in ninth position. The officer count in 12th is currently ranked thirteenth while the 13th is twenty-fourth. The combined count would rank them the highest in number of officers. McCarthy noted that he would receive heat from other communities about that.
Beat structure alignment has not as yet been determined.
Statements about budget and financial savings were vague. Wysinger did say that he did not want his taxes to rise because of an inefficient police department.
Little was said about the location of the new station at 1412 South Blue Island (Racine, 14th and Blue Island). In most districts, the station is within a central hub of the district.
McCarthy and Wysinger stressed several points in answer to repeated audience questions about police presence, response time and relationships.
Combining the districts is a management decision based on accountability to residents for what happens to the crime rate in the city and the community.
Officers will be assigned to beats and will work those beats on a regular (consistent) basis.
Officers, during their shifts, will be deployed from their beats not from the physical station. They all have phones.
The department must be efficient, lower crime stats means less police officers can be financially justified.
What do you think?
Part two: Aldermen; Part three: the People

Related:
Crime Stats By District
Columnists