Claiming innocence, 10th District State Rep Derrick Smith refuses to testify and to step-down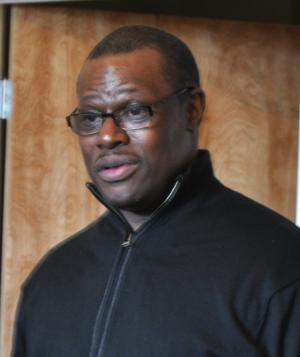 Derrick Smith, Illinois' 10th District State Representative, refused to testify at a special investigative committee of the House in Springfield on Thurs., May 10, which was convened to determine what action might take against him because of the indictment against him for bribery. In addition, he continues to refuse to step-down or step-aside from his current seat and professes innocence.
Victor Henderson, Smith's attorney, questioned the prosecutor's credibility and the integrity of the sting operation. He pointed out new information about the source's criminal history and questioned the set up of a fictitious not-for-profit day care for purposes of catching Smith.
One of the committee's  members, Rep. Dennis Reboletti said that the  panel has a much lower standard of fault-finding than Smith would face in federal court.
"I haven't heard you disagree that the conversations that are in this complaint, on the wire, ever took place. I would suggest that is enough for this committee to take action and most likely deliberate and suggest we move forward with the House to punishment."
If this committee finds that disciplinary action is warranted, they would make that recommendation and another committee would be convened to determine reprimand, censure, expulsion or no action.
It is alleged that Smith accepted a $7,000 bribe from and undercover officer in exchange for writing a letter of support for a day care owner requesting a state grant.
As pointed out by ABC's Chuck Goudie, it is looking doubtful that the bribery case will be resolved before the fall elections, leaving voters in the dark about his guilt or innocence.
"Pre-trial motions were due Thursday in the Smith case, but a squabble between attorneys for the government and the state lawmaker has now delayed that.
"The initial steps forward in the case won't begin until the end of this month, and they are still a long way from even setting a reasonable trial date.
"Time may well be on his side. Tenth District Chicago voters are unlikely to know much more about the charges against him on Election Day then they do today.
"Corruption cases may take years to actually reach trial in federal court. The election is in less than six months."
For more coverage: NBC, FOX, Chicago Tribune
Related:
Crime Stats By District
Columnists