Crime Stoppers hit the streets offering cash reward: Fatal June hit and run on Division
Cook County Crime Stoppers are offering a cash reward for information about the June 18 fatal hit and run, of 23-year-old Eric Judge, in the 2000 block of W. Division. Approximately 30 people spread out along Division Saturday morning, Nov. 11, handing out flyers in a quest for more information.
With the investigation seemingly "hitting the wall," Crime Stoppers stepped in to aid Judge's family, friends and co-workers in an effort to re kickstart the ongoing investigative process of finding the person or persons responsible for the accident.
"We are pleading to the community for their help! I'm sure the person driving the car didn't mean to hit Eric," said George McDade, Chairman, Cook County Crime Stoppers. "How does one live with oneself after driving away? This is a tragic loss for Eric's family and friends, and we are hoping someone in the community can help us find who is responsible for taking the life of this young man.
"Something you may have seen or heard could be vital in helping us find this person(s). We believe the community can help us. One way to do so is, if you have heard or have any information about this case, please share it with us.
"Crime Stoppers does not need your name. Your anonymous tips can be called into the tip hotline 800.535.STOP (7867) and you will be given a code. If your call is the tip that helps solve this crime, you will receive up to $1,000 in cash." 
Judge's uncle, Stephen Cashen, said, "In this vibrant community where so much is going on, someone must have seen something." He encouraged people to talk to the police or Crime Stoppers. The smallest piece of information, can provide a key to much more information.
"It is important to put this tragedy to rest. We thank everyone who has and is helping in this search," he concluded.
The Incident
It was approximately 1:30 a.m., on Sun., June 18, when Judge, who was living in the 2100 block of N. Kedzie, was struck by a vehicle in the 2000 block of W. Division. The vehicle was a small to medium sized 4-door car, unknown in color.
The impact was so severe that there was significant damage to the hood, front bumper, front quarter panel and front passenger-side windshield. It is reported that Judge died immediately when he was thrown onto a parked vehicle.
While there are some videos in the area, they can be used to see the incident but not identify the driver or the car license plate.
The Victim
Despite life-long learning disabilities, Judge, a native of New York City, obtained his college degree in Environmental Engineering from Chicago's Northwestern McCormick School of Engineering.
A fellow engineer, who worked with him by the water treatment plant, Tamara Niranda, described Judge as "the sweetest happy person. He was always smiling, always wanted to have fun and enjoy life. He loved his job and was a great guy."
"My son, at an early age, learned to be his true self, demonstrating a strong foundation of ethics and family values that he embodied throughout his brief life," says his mother Mary Ann in a written statement.
"He was an avid believer in organ donation. It devastates us to know the accident was so horrific that it prevented us from donating his major organs in accordance with his wishes.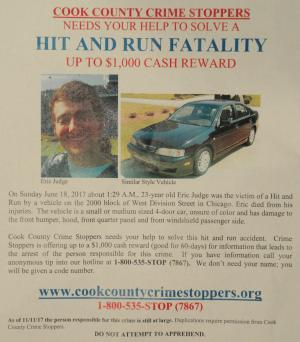 "Not only did our family lose Eric that night but he died just one week before his 24th birthday. Instead of celebrating his birthday, we held his memorial service that day. My family and I, along with some of Eric's friends, co-workers have been working tirelessly and selflessly to gather more information.
"We ask the Chicago community to help us in finding people who can help us solve this crime. We want to prevent this immense tragedy from happening to other families," she concluded.
Related:
Crime Stats By District
Columnists