Dominicks in Ukrainian Village to become another Mariano's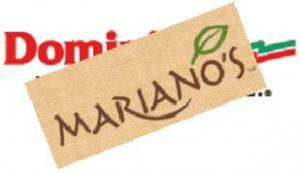 Roundy's, Inc., owners of the food store chain Mariano's, announced Mon., Dec. 2, that they are acquiring 11 Dominick's stores from Safeway, Inc. Among them is the 2021 W. Chicago Ave. store in Ukrainian Village. 
"This acquisition is transformational in terms of Mariano's expansion plans in the Chicago metropolitan area, allowing us to open 11 additional stores in 2014 in prime locations with great market demographics," said Robert Mariano, chairman, president and chief executive officer of Roundy's. "These key locations will seamlessly integrate into and complement our existing base of 13 Mariano's locations as well as our 5 additional 2014 Mariano's locations now under construction." 
With this deal expected to close in mid to late December, this acquisition will mean that our area will have two new Mariano's locations opening in 2014. The built-from-the-ground-up store is on Ashland Ave. at Webster St. 
Each acquired store will be closed between 30 to 45 days. During a tele-press conference, Mariano indicated that pharmacies will remain open when each store is closed for remodeling. 
While they will not be retaining any current employees on Chicago Ave., or any other store, everyone can apply for jobs in these stores. They will be holding job fairs as well having job information on line. 
"From the beginning, I have advocated with Dominick's that it was important that this store remain a major chain food store. The community is there to support it, it has great traffic," said 1st Ward Alderman Proco "Joe" Moreno. "I am happy to hear that the popular Mariano's will be serving the area." 
"While it's sad to see a business leave the neighborhood, we're excited that another grocery store will take over, keeping jobs and business in our community," said Samantha Arnold, Secretary of the Ukrainian Village Neighborhood Association (UVNA). 
The other stores included in this transaction are: Park Ridge: 1900 S. Cumberland Ave.; Western Springs: No. 14 Garden Market Street; Chicago: 3145 S. Ashland Ave.; Northfield: 1822 Willow Rd.;  Westchester: 3020 S. Wolf Rd.; Buffalo Grove: 450 Half Day Rd.;Chicago: 5201 N. Sheridan Rd.;  Gurnee: 6655 Grand Ave.; Aurora: 3025 E. New York St.; and Shorewood: 950 Brook Forest Ave. 
Roundy's is a Midwestern food chain with nearly $4.0 billion in sales and more than 20,000 employees. Founded in Milwaukee in 1872, Roundy's operates 163 retail grocery stores and 101 pharmacies under the Pick 'n Save, Rainbow, Copps, Metro Market and Mariano's retail banners in Wisconsin, Minnesota and Illinois. 
Related:
Crime Stats By District
Columnists