Federal civil rights lawsuit filed against the City, 14th District Sergeant and Lieutenant by female Police Officer
Chicago Police Department's 14th District Sergeant Gerald Breimon and Lieutenant Sara McDermott were named along with the City of Chicago in a 10-count federal civil rights lawsuit filed Thurs., Nov. 7, on behalf of Police Officer Kelly Hespe. The claims are focused on sexual harassment and abusive conduct. 
The Plaintiff, Hespe, is a single mother of three, who is a 12-year veteran of the Chicago Police Department (CPD) and has spent her career in the 14th. She worked the midnight shift. Diagnosed with post-traumatic stress disorder (PTSD), Hespe is on medical leave. Her diagnosis is alleged to be the result of emotional, physical and sexual abuse by Breimon and subsequent workplace retaliation. 
Sergeant Breimon is a 20-year veteran of the Chicago Police Department, serving as a supervisor after being assigned to the 14th District in 2008. Prior to that, he had been relieved of his police powers and placed in the CPD's Alternative Response Section or "call back" for approximately five years pending criminal investigation. He had been charged, in 2003, with aggravated criminal sexual abuse, unlawful restraint and official misconduct in connection with fondling a 25-year-old female motorist in September 2003. 
That case was dismissed after the female victim failed to testify in criminal proceedings, following her receipt of a settlement from the City and Breimon in her civil suit.
New lawsuit
In this new lawsuit, it states that Breimon, during the midnight watch, began in 2008 using his authority as Hespe's supervisor, to engage in an escalating course of sexual harassment and abusive conduct that created an ongoing pattern of emotional, physical and sexual abuse. 
According to the suit, Breimon's actions began with sexually suggestive comments characterizing himself as Tarzan and Hespe as Jane. Hespe complained to another female officer. That officer confronted Breimon about his conduct and told him to stop harassing her. 
Instead of resolving the situation, Hespe learned that "she would have to run a gauntlet of sexual harassment in the 14th district in order to ensure male officers would 'have her back' on calls and not refer to her as a 'rat.'" 
A series of actions and threats ensued, according to the complaint. They included Breimon demanding that Hespe:
meet him in parking lots to talk
leave her partner in their squad car and get into his car parked behind them to talk
"ride out" or extend the length of completed assignments so they could have lunch together 
When Hespe refused to meet him for lunch, "Breimon would pull over Plaintiff's squad car and then accuse and verbally reprimand her for not promptly clearing from completed job assignments." 
Hespe conceded to Breimon's demands to friend him on Facebook. He then made "lewd, sexual and vulgar suggestions" on her Facebook page while he was on and off duty. When asked by Hespe to stop those actions, Breimon continued. He told her that "it would be useless for her to complain or tell anyone in the police department about his conduct and actions because no one would believe" her. 
Furthermore, he told her that "his mother, a former Assistant Deputy Superintendent, still had extensive connections with high ranking officials in the CPD and that she would 'get rid' of plaintiff if Breimon desired her to, or if Plaintiff ever complained about Breimon's conduct." 
According to the suit, for two years beginning in November 2009, Breimon demanded that Hespe perform sex acts on him in various locations including his squad car parked in secluded locations in Humboldt Park, in his 14th District office and in the 14th District storage room. In addition, while at work, he would demand to know if she was wearing undergarments. He would then reach into her uniform shirt or pants and touch her chest and buttocks, telling her, "checking." 
On Oct. 24, 2011, Breimon demanded that Hespe sit in his car. While pounding his fists on the steering wheel, threatening Hespe, he punched the vehicle's personal data termnal (PDT), causing it to crack. He subsequently reported the damage on the PDT as unknown. 
Other points in the suit list other types of actions. Among them are that Breimon said that he had located the woman who had accused him of fondling her and he now knew where she lived. He then told Hespe that he also knew where her family members lived. 
Though Breimon transferred from the midnight shift in January 2013, the law suit states that Hespe began having problems with other supervisors. 
On Mar. 7, Hespe was assigned to work by herself on Beat 1432R. After roll call, McDermott told Hespe that she was going to be working with her. As stated in the suit, McDermott instructed Hespe to check her squad car as to whether her car had a functioning camera. Hespe reported that it "had a non-operable camera with a service ticket on it." McDermott then said that she and another Sergeant would be riding with her. 
"Immediately upon leaving the station" McDermott "began to interrogate" Hespe "as she drove," asking her if she even knew where 1432's beat began and if she knew how to drive there. This interrogating continued with McDermott asking Hespe to name every numbered street from the south end  to the north end of the 14th District. 
McDermott told Hespe that if she answered any questions wrong then she would hit her in the head with her baton. Each time Hespe answered incorrectly, McDermott "looked directly at Plaintiff and beat the baton into her hands. This caused Plaintiff to fear that she was going to be struck in the head." 
On Mar. 8, Hespe contacted her union, the Fraternal Order of Police and the Independent Police Review Authority (IPRA) to file a complaint for the previous night's incidents. IPRA informed Hespe that because her allegations of police misconduct involved a Lieutenant, a Sergeant or higher in rank would have to call in the complaint on her behalf. Hespe proceeded to the 16th Police District and made the complaint. To date, she as received no notification as to what action was taken on the complaint. 
The following day, Mar. 9, Hespe's original assignment was changed after roll call and she was to be with two other Sergeants. Hespe was fearful that the tour would be a repeat of Mar. 7. Shortly after the the tour of duty began, Hespe began to suffer severe chest pains and was transported from the 14th District by ambulance to a local hospital where she was admitted for observation and testing. 
Since Mar. 11, she has been unable to return to work or to participate in a Master's degree program that she had been recommended for.
Lawsuit "ask"
The lawsuit does not specify specific monetary compensation. It requests that the judgment be entered in Hespe's favor against the City. Sergeant Breimon and Lieutenant Sarah McDermott, "awarding compensatory damages, courts costs, and attorneys' fees, as well as punitive damages against the Defendant Officers in their individual capacities, and any other relief this Court deems just and appropriate."
Press Conference
During the press conference, Hespe described Breimon as someone who could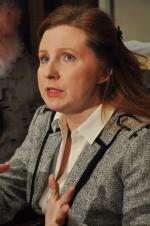 be charming, was well liked and who continually told her how smart he was and all the contacts he had. "He is manipulative. He has an ability to  portray himself as he wants people to see him." 
She reported that he wanted a relationship but she did not, but she eventually gave in. "He wanted to isolate me. I saw his strange behavior and I tried to end the relationship after a short time. I was afraid of him, not just because of his connections but I was terrified of him." 
When asked what she wants from all of this, Hespe said, "I was happy in my job. I had friends and coworkers who liked working with me before he came into the District. I want to be able to be treated equally not discriminated against, not mistreated or harassed."
Her response to the question, "What do you want for him?" She replied, "I want it to be known what he did and be held accountable. He shouldn't be able to do this to anyone else. What he did was wrong." 
"Are you willing to carry through with this? The last woman wasn't," asked another reporter.
"Yes, I am. I am tired of being silent. I have to stand up," replied Hespe. 
Hespe's attorney, Daniel Q. Herbert, a former Chicago Police Officer, prosecutor and an in-house Fraternal Order of Police attorney, was clear in his evaluation of CPD management. "It is well known in the district about his (Breimon) temperament and bizarre acts. I'd say everyone on the watch knew about it.
"The 14th District handled this completely improperly and quite frankly they are at fault for this along with Breimon. The previous case was well documented. There was a criminal and a civil case. He should not have been allowed to be in a position where he could do this. 
"Then they did nothing to stop it. In fact they promoted it, so she would be a better victim, a better prey."
Related:
Crime Stats By District
Columnists