Get your Illinois refund via debit card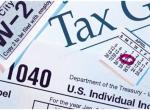 New this year, anyone receiving a tax refund from the state of Illinois can opt to receive it via a debit card rather than a paper check. Restriction is that the taxpayer use the Department of Revenue's online WebFile site for filing.
For taxpayers who opt to have refunds deposited into bank accounts, the state indicates those transactions will be faster this year too. In fact they say that those who select direct deposits over printed checks will  have "a more convenient way to access refund money."
"Each year we strive to improve the taxpayer experience when using tax.illinois.gov. This year, we've implemented a pilot program to help families without a traditional savings or checking account get free access to their tax refund, instead of facing check cashing fees from local vendors," said Brian Hamer, Director, Illinois Department of Revenue. "But people who have a bank or credit union account are likely to find direct deposit the most effective way to receive their refund."
The Department will be monitoring the feedback from taxpayers who have opted to use the debit card this year with hopes to expand the debit card option next year so that more Illinois taxpayers could take advantage of it.
Related:
Crime Stats By District
Columnists