Immigration reform brings Democrat Luis Gutierrez and Republican Paul Ryan together
With a mariachi band strumming and singing outside Erie Neighborhood House, 1347 W. Erie, on a sunny warmish Monday morning, Apr. 22, a crowd stood awaiting the arrival of what might seem an unlikely pair…Luis Gutierrez, Democrat,  U.S. Representative of Illinois's 4th Congressional District, and Paul Ryan, Republican, U.S. Representative of Wisconsin's 1st Congressional District. 
Turns out, immigration is a subject that they have agreed on since sometime in 2005, according to both of them.
"Bipartisan leadership in the current fight for sensible, compassionate and comprehensive immigration reform," is how Celena Roldan, Executive Director of Erie Neighborhood House, described the pairing. 
Illinois Coalition for Immigrant and Refugee Rights (ICIRR), CEO Lawrence Benito said, "We thank Congressmen Ryan and Gutierrez for their leadership in reaching across party lines to build common sense solutions to our broken immigration system. Our society is not built on big government, but strong families. 
"But we can not help to build a strong society when our families are under attack each day. When 1,100 mothers and fathers are deported each day, 400,000 families destroyed each year, leaving 178,000 orphans without parents. 
"Fixing a broken immigration system will strengthen our economy, strengthen our national security. But most importantly, achieving a sensible immigration reform will strengthen our values as a nation that honors families." 
Testimonies
Testimonies were given by several including a 12-year-old U.S. citizen, who has excelled in school and gotten straight "A"s in math. He assured the audience that he has never missed a day from school "until today."
Two years ago his dad did not pick him up at school, his uncle eventually showed up. When he arrived at home where his mother and 2-week-old brother were, he learned that his father was on his way to pick him up when the police stopped him. He didn't have a driver's license and they discovered he was not a citizen or legally in the country. He was turned over to immigration for deportation.  
"I was worried for my family. For days, we didn't know anything about my dad or whether we would ever see him again. They were horrible, terrible days and I don't want any other kid to have to go through that," Jesus Mancha said. Then he asked the Congressmen to help pass the law so his father can return to the family. 
A 24-year-old law student at Northern Illinois, Irakere Picon, undocumented, spoke next. His parents brought him to the U.S. on a tourist visa when he was two, "in search of a better life." He received a deferred action last fall so he can have a driver's license, can work and not worry about being separated from his family, friends and community. "All I want to do as a freshman in law school is to uphold the values and principles in our constitution of 'life, liberty and justice for all.' But our current immigration system stands in the way of my goals." 
He then asked the Congressmen to protect him through immigration reform and gave them each a copy of The U.S. Constitution and then "admitted" that he was from Pakistan. (*See correction below.) The Latino audience supported him with cheers and applause. 
Emma Lozano, Executive Director, Centro Sin Fronteras, introduced and told the stories of several people who have immigration problems including Sergeant Hector Nunez. Married for 7 years with two children, Nunez's wife also faces an immigration problem. Though she came to this country at the age of 6, she returned to Mexico at 14 when her father was dying of cancer. Following his death, she returned to the States at age 16 to join her family and was undocumented. 
When Nunoz went to an attorney to get his wife's status changed, it was believed that they had a good case with sufficient hardship and Hector was a veteran who served in Kuwait and had orders to deploy to Afghanistan. They went to Mexico for his wife, Rosa, to have an interview. They were sure that in a few weeks she would be allowed to return to the States. However, the U.S. Council in Mexico told her that she could not return and that she was banned from the U.S. for 10 years. 
Fortunately Nunez' commander understood his situation and allowed him to take care of his family situation before being deployed to Afghanistan. Congressman Gutierrez intervened and was able to obtain a one-year visa which expires in December.
"Now I can leave and serve my country because I know that these two [Congressmen] will fight to protect my family and keep them together," said Nunez. In expressing his appreciation, he gave each Congressman a metal…metals he had earned. 
Gutierrez
In introducing Paul Ryan, Luis Gutierrez gave history of their working together on immigration. "He was with me in 2005 when we endorsed comprehensive immigration. It was Kennedy, McCain, Ryan and Gutierrez," he explained. After working very hard to make sure that Ryan did not fulfill his dream to be Vice President, he was surprised and happy to learn that Ryan wanted to continue to work together for immigration reform.
Gutierrez related a conversation they had, "I don't want to take immigration off the table," said Ryan. "I don't want to do it because it is politically something we should take it off the table. I want to do it because it is the right thing to do. There is no way that we should allow there to be a sub-group of Americans. As Catholics, we can not allow a permanent underclass to live in America among us."
Ryan
Ryan began his presentation by thanking Gutierrez and others and then said, "Go Packers!" After the boos subsided (this was all in jest), he thanked Sergeant Nunez for standing up and telling his story in front of all of the people, tv cameras and microphones. "You earned these metals by serving our country. We can not receive what you earned. So thank you for your gratitude but I want to return this to you because you deserve what you have earned." 
Pointing out that while Gutierrez may choose to be arrested on behalf of immigration reform [Gutierrez was arrested twice.], Republicans might choose to do things a little differently. "But, we don't always see things differently. America is more than just a country, more than Chicago or Wisconsin. It's more than our borders. America is an idea. It is a very precious idea. The Declaration says it clearly. Our rights come from nature and nature is God. Not from government.
"We are unique and we are sovereign. These are universal truths, universal ideas...self evident. When people come to this country in pursuit of that idea, they are expanding that idea. They are making our country better. We are a land of immigrants. I grew up in southern Wisconsin where my family taught me about the melting pot. About how this country is made great by the people who come to this country in search of a better life…in search of a dream. 
"I'm a product of a wave of immigration just like current immigrants are.  Most people in this country are a product of the various waves of immigrants we've had in America. That is America. Right now we all must agree that we have a immigration system that is broken. It is not serving our interests as a nation. Our broken immigration system does not serve our national security needs. Our broken immigration system does not serve our economic security interests. Our broken immigration system does not serve our family interests. 
"So when Republicans and Democrats look at this situation and see something is broken, we need to fix it. That is why Luis Guttierez, myself and other Republicans and Democrats are doing everything we can to try, this year, to make sure we find that common ground uniting around the common theme. 'This is the greatest country in the world,' attracting people in search of this great dream and we want to make it possible and real. 
"We want to have an immigration system that respects our laws, respects our people and that has gates open to people who are coming here in pursuit of their version of the American Dream. 
"Luis is right, we have been trying to fix this for years. We had a so-called bi-partisan immigration bill in 1986. Then that didn't work. Then we passed a so-called comprehensive immigration reform in 1996. That didn't work. 
"It is high time we fix this broken system in the interest of our country, the interest of our national security, the interest of our economic security and jobs and in the interest of our family security. We want to be able to look back at a moment when people of different parties saw a common purpose and renewed this belief, this idea...that America is a land of immigrants. And, that's what makes us a healthy country, a prosperous country. That makes us a county that passes on to each generation the idea that you can come here and make a better life for yourself and as a result a better country for everyone else," concluded Ryan.
Among the public officials present were Aldermen Proco "Joe" Moreno, 1st Ward, and Danny Sollis, 25th Ward; Cynthia Soto, Illinois House of Representatives 4th District; Tom Cross, Republican, Minority Leader, Illinois House of Representatives; and Christine Radogno, Illinois Senate Republican  Leader.
A large group of Catholic priests from Priests for Justice and the Archdioceses of Chicago were also part of the audience.
As the Latino based assembly focused on today's issues of immigration, two young smiling girls from a different wave of immigrants from the late 1800s looked down from high up on the wall of the 125-year-old Erie House, where thousands of immigrants came and continue to come for counsel and services.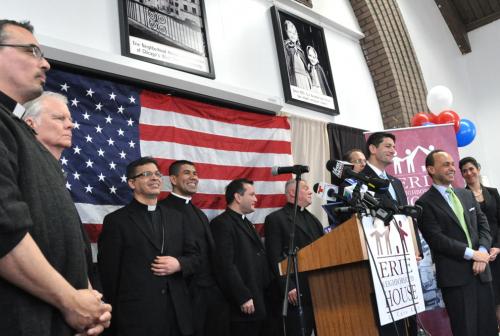 *Thanks to Arianna Hermosillo, she corrected "from Pakistan" to "a Packers Fan"
Related:
Crime Stats By District
Columnists