Nation's first rapid response center for homeless: Salvation Army's $10M Shield of Hope in West Humboldt Park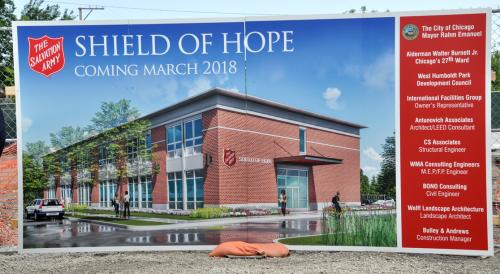 The nation's first rapid response center for the homeless, Salvation Army's Shield of Hope two-story building at 924 N. Christiana Ave., will open in March 2018 as a result of partnerships that recognized a deepening crisis of family homelessness. 
At the ground breaking ceremony Fri., July 7, for the 10-million-dollar West Humboldt Park facility, Lieutenant Colonel Charles Smith, Salvation Army Chicago Metropolitan Divisional Commander, Mayor Rahm Emanuel, 27th Ward Alderman Walter Burnett, Jr. and Lisa Morrison Butler, Commissioner, Chicago Department of Family & Support Services, heralded their partnerships and the facility and services that will save people's lives and dignity as they receive help to restart their lives. 
Shield of Hope Center
The Shield of Hope emergency center model of service will provide a homeless family the opportunity to be triage, assessed and placed in a more stable living situation within 14 days. 
In addition to having shelter, access to meals, showers and play space for children, families will receive help from staff in addressing and resolving the issues that led to their need to seek shelter.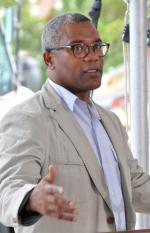 "Folks deserve dignity," says Burnett. "Unfortunately at our 10 S. Kedzie location*, people and kids are all in a gym-like room, sleeping on the floor surrounded by all their possessions. There is no privacy."  
This new facility will have 20 bedrooms with private bathrooms and accommodate 55 emergency overflow beds. According to the facilities architect Joseph Antunovich, Antunovich Associates, who also designed the The Salvation Army's Freedom Centercampus, 825 N. Christiana, it will be flexible space that can be reconfigured to meet current needs. 
While receiving counseling, services available to the families will include social service programs, job training, treatment for substance abuse and recreational and educational classes for children. Being next to The Salvation Army's Freedom Center campus, 825 N. Christiana, families will have access to those facilities as well as those at the Shield of Hope. 
Once the family moves on, a "continuum of care" will be provided by The Salvation Army's other locations. 
The Miracle
Smith described that the way the project came together was a miracle. An anonymous estate donation occurred at about the same time as a request from the City for a service provider. Since then the cooperation and help with the City has been incredible. 
Butler pointed out that the March City Council vote of approval for this new state-of -the-art facility in both service and physical design "...will serve as the hub and access point as we implement the Chicago's new crisis response system. 'Plan 2.0: A Home For Everyone,' is a seven-year action plan that reaffirms and builds on the core tenets outlined in Chicago's original Plan to End Homelessness." 
On the lighter side, Butler, picking up on Smith's comment, introducing her boss as a miracle worker. Amid laughter, the Mayor stepped up and said that is not how he is generally introduced. "There are a lot of adjectives that follow my name, miracle worker is not among them." 
Citing the Shield of Hope as an example of a good public-private partnership, Emanuel said, "It is not just a building, but a one-of-a-kind campus in the United States of America. And, I am proud that the City is part of it. 
The ceremony ended with gold colored shovels being used by dignitaries digging up and shoveling out gravel and dirt. 
Chicago's Homeless Statistics
The City of Chicago estimated individuals and families in 2016 as 5,800 homeless and that they served approximately 30,000 clients on an annual basis through shelter, prevention and outreach programs.
Admitting that they needed to do better, the Chicago Department of Family Support Services named, in October 2016, The Salvation Army as the designated agency for conducting all assessments and referrals for homeless families who turn to the City for help. 
*10 S. Kedzie is the City's centralized emergency homeless shelter and services location currently operated by the Salvation Army.
Related:
Crime Stats By District
Columnists